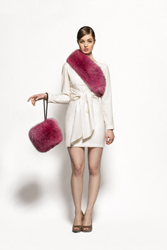 "Mark Belford knows exactly what women want! His beautiful pieces ensure a memorable entrance and make every women feel like a STAR!" Barbara Atkin, Senior Vice President Fashion Direction, Holt Renfrew.
Toronto, Ontario (PRWEB) March 18, 2015
Fall 2015 RTW
Mark Belford has dressed international royalty, socialites and celebrities with his private couture commissions since 2000. He has been honored to collaborate creatively with discerning women on pieces to grace them while living their most extraordinary moments. Mark's vision for the Ready-to-Wear is to deliver the craftsmanship and intimacy of an old-world couture experience to today's modern woman.
The new Ready-to-Wear capsule collection features a signature day dress, stunning coats, furs and elegant cocktail dresses. Mark's aesthetic marries an old world aristocracy with modern magnetism in pieces that are at once demure and show stopping.
"Mark is a true artist. His designs are inspired and inspiring. I have never felt more beautiful than when wearing one of his creations," said Michele Maheux, Executive Director/COO at Toronto International Film Festival (TIFF). Ms. Maheux has been wearing privately commissioned Mark Belford Couture exclusively on Opening Night of the Toronto International Film Festival since 2006.
Live by Appointment
The heart of the couture experience is the intimate relationship between the designer and his client. Mark wants to nurture that kind of relationship with each of his clients. Ladies can book 30-minute consultations with Mark on http://www.markbelford.ca and speak with him live via Skype to talk about his designs, their closet, their life or gossip about any of the above.
Fashion Illustrations
Every couture gown starts as a sketch on Mark's drafting table and now he is releasing limited edition prints of these exquisitely handcrafted and hand painted illustrations. The First Edition contains 6, 11" x 17" prints in limited runs of 100 each.
"I find Mark's illustrations to be charming, whimsical and always beautiful. He is a rare talent not only for his fashion sense, but also for the way he translates this into his drawings and fashion creations. I love to use his illustrations in my work. Their individual, romantic presence adds personality to any space and I find them especially delightful in a ladies dressing room, grand closet or chic powder room." Martyn Lawrence Bullard, British interior designer, author, and television personality. Named as one of the world's top interior designers by Architectural Digest, Bullard also stars in the Bravo series Million Dollar Decorators.