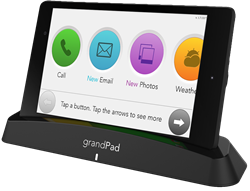 grandPad is excited to be attending this year's Boomer Summit
Orange, CA (PRWEB) March 17, 2015
Scott Lien, Co-Founder and CEO of grandPad, Inc. has been invited to speak at the upcoming 2015 What's Next Boomer Business Summit held by Mary Furlong and Associates on Thursday, March 26th at 2:45. He'll be joining John Reinhart (Innovate LTC), Jeff Zimman (Posit Science), and Rachel Francine (Singfit), adding insight to the "Top Issues Facing Super Seniors 75+ and Technical Innovations That Help" topic and will also introduce his product, grandPad, a tablet designed to bridge a growing technological gap between the elderly and their digitally connected families.
grandPad is a lightweight and simple tablet for senior citizen and has been built from the ground up to help them reconnect to their families in the age of instant communication. The tablet utilizes a straightforward user interface without complicated steps like logins or passwords. Users can make voice and video calls with family members that have the free companion app and can look at the pictures the family has uploaded. This senior computer replacement includes unlimited Verizon 4G LTE, white-glove membership support, and insurance for a low-costing monthly subscription.
"grandPad is excited to be attending this year's Boomer Summit," says Lien, regarding the nation's largest and leading event for businesses that affect the aging market. "Mary Furlong and Associates is widely recognized for their work in the longevity marketplace and we're thrilled to be making our mark." About the issues facing seniors: "Social isolation is a large concern for seniors today—it leads to depression and depression leads to lots of other issues. With grandPad, we're dedicated to helping millions of seniors eliminate the digital chasm that isolates our loved ones, bringing them back into a loving and connected circle of friends and family."
grandPad was founded on the idea that current digital communications technology should be accessible to seniors. The mission behind the grandPad is that technology should be intuitive, engaging, transparent and not complex. grandPad has created a simple tablet that connects and helps seniors communicate easily with family and friends. Simple joys should be simple to share.