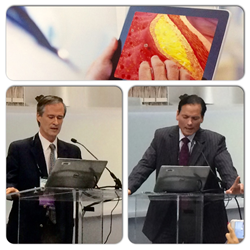 San Diego, Calif. (PRWEB) March 17, 2015
Dr. Douglas Harrington, FCAP - Clinical Professor at USC Keck School of Medicine and Dr. Americo Simonini, FACC - Cardiologist at Cedars-Sinai Medical Center presented "Early-detection of Coronary Heart Disease with an Advanced Proteomic & Predictive Algorithm Demonstrates Improved Patient Outcome" on Saturday, March 14th in the Patient Engagement Pavilion at the 2015 American College of Cardiology Conference (ACC).
The special presentation supported by the GUARDaHEART Foundation, provided physicians and other healthcare providers the latest information on how the PULS Cardiac TestTM, which has been validated and confirmed in other studies and demonstrates clinical utility in identifying asymptomatic patients with subclinical CHD, allows for timely critical intervention and prevention strategies.
Drs. Harrington and Simonini presented patient case studies where the PULS Test (which conforms to ACC/AHA (ATP IV) guidelines) identified asymptomatic, at-risk patients and helped motivate patient compliance to physician prevention strategies.
"Physicians are not only challenged with being able to accurately, but non-invasively diagnose CHD in asymptomatic patients - they also contend with a lack of patient motivation to make necessary lifestyle modifications," commented Dr. Douglas Harrington. "The PULS Cardiac Test aims to more accurately detect CHD at an early disease stage, with results that prompt a patient 'wake-up call' or patients in denial, to follow physician recommendations."
The session was featured in the ACC Patient Engagement Pavilion, which spotlights ACC's commitment to quality patient-centered care by showcasing programs, tools, and resources that empower patients and healthcare providers to work together to achieve measurable improvements in cardiovascular outcomes.
About the PULS Cardiac Test
The PULS (Protein Unstable Lesion Signature) Cardiac Test analyzes clinically validated proteins directly related to the biological processes underlying Unstable Cardiac Lesion formation and CHD development. The research behind the test found that the use of nine biomarkers and established clinical risk factors correlated with the underlying formation of unstable cardiac lesions, and proved to significantly improve identification of at-risk patients frequently missed by current methods. Results demonstrated that the novel protein-biomarker and clinical risk factor algorithm identified patients who are at risk of an acute coronary event. Acute Coronary Syndrome (ACS) is the main cause of coronary artery disease mortality. For more information, visit http://www.PULStest.com.
About GUARDaHEART
GUARDaHEART is a 501(c)(3) nonprofit dedicated to fighting heart disease with the mission: "LEARN. DETECT. PREVENT." GUARDaHEART works with strategic partners, healthcare providers, and other non-profit organizations to promote awareness through education and risk detection tools, to ultimately empower preventative action and reduce the risk of heart disease worldwide.