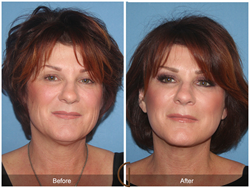 The goal of facial rejuvenation is to refine a face without changing an individual's characteristics.--Dr. Kevin Sadati
Newport Beach, California (PRWEB) April 11, 2015
There are several factors to understand before moving forward with a facelift. Dr. Kevin Sadati outlines the top considerations for his Orange County plastic surgery patients.
Be Realistic. Cosmetic surgery isn't 'magic', and comes with limitations. It's important to understand that a natural result is optimal, and Dr. Sadati will review all of the options as well as each patient's expectations.
Understand the Risks. A facelift is surgery, and with each surgery comes risks. In order to reduce these, it's imperative that the patient stop smoking weeks prior to the procedure, as well as focus on a healthy diet and exercise plan.
Recovery Time is Not Optional. Dr. Sadati utilizes his revolutionary Natural Facelift technique that reduces recovery and downtime, but you should still expect to rest and bypass normal activities for at least a week post surgery.
Trust your Surgeon. Researching credentials of the surgeon you choose will ensure you feel comfortable following through with your facelift. Be sure your surgeon is Board Certified before undergoing any procedures.
"The goal of facial rejuvenation is to refine a face without changing an individual's characteristics," states Dr. Sadati.
Dr. Kevin Sadati is one of the top California facial plastic and ENT surgeons specializing in minimally invasive facial and nasal surgery. He is Board certified by the American Osteopathic Board of Otolarynology Head and Neck Surgery (AOBOO-HNS), Diplomate of the American Board of Cosmetic Surgery (ABCS) and a member of the prestigious American Academy of Facial Plastic & Reconstructive Surgery (AAFRS).
Dr. Kevin Sadati has over a decade of experience in the field of facial, nasal and sinus plastic and reconstructive surgery, as well as nose and sinus surgery, and has become one of the most sought after Newport Beach and Orange County facelift, rhinoplasty, neck and face liposuction and sinus surgery specialists.
For more information about Dr. Sadati and his nationally recognized practice, visit http://www.drkevinsadati.com.