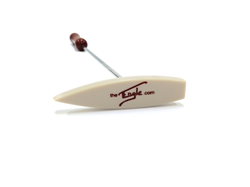 Austin, TX (PRWEB) March 17, 2015
The amount of talented Blues artists to make it to Austin this year for South By Southwest is astonishing. Here are five more acts that Engler Innovations, makers of the guitar hammer "The Engle", hope to check out, and perhaps interview during the week.
Luke Winslow King has shared the stage with many artists, from Jack White to Pokey Lafarge. While his New Orleans influence is clear, he's also studied in Prague and is a native of Cadillac, MI. Offbeat Magazine has nominated him as Best Male Performer. See him on 3/18 at Continental Club.
You wouldn't expect a prominent blues performer to be a longtime Black Flag fan. In fact, Luther Dickinson has recorded with all kinds of acts from Beck, Buddy Miller, Robert Plant, and Lucero. The apple doesn't fall far from the tree, as his father, Jim Dickinson, played with the Rolling Stones and produced albums for acts like The Replacements. See the incredibly skilled performer at Continental Club on 3/20.
Dickinson isn't the only one who played with prominent artists early on in his career. Paul Oscher started playing with Little Jimmy Mae at the ripe age of 15, and then went on to play with the Muddy Waters Band. He's also performed alongside Keith Richards, Levon Helm, Eric Clapton, and Mos Def. Check him out on 3/20 at Saxon Pub.
Talent is ageless, and this will certainly be seen firsthand this week. The Peterson Brothers are Alex and Glenn Jr., who are 15 and 18, respectively. At such a young age, they too have opened for some amazing acts, which include B.B. King, Los Lonely Boys, Chubby Checker, and Lisa Marie Presley. For teenagers, these performers are extremely skilled. 3/17. Lucky Lounge.
Reverand Peyton's Big Damn Band are certainly a sight to see. Last month they released their most recent album, which spans multiple genres. Peyton is a great showman on the guitar, and has stunned audiences in touring extensively over the last eight years. The band received the "Best Band of Warped Tour" accolade, and has also played Bonnaroo, Telluride, and many other festivals. Check out the band on 3/19 at Lamberts.
Be sure not miss any of these five acts during SXSW. Stay tuned for five rock acts worthy of equal excitement.
Also check out the guitar hammer everyone's talking about over at http://www.theengle.com