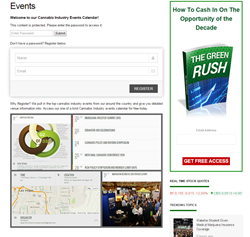 In order to make the task more convenient for themselves and their site visitors, the owners decided to amalgamate all these events in spot and put them into an easy to use calendar
San Francisco, CA (PRWEB) March 17, 2015
GreenRushReview.com, cannabis business news website, has recently launched a new cannabis industry events page and calendar at http://www.greenrushreview.com/events/.
The latest addition to the GreenRushReview.com website came about after the site owners realized that they were spending too much time and effort looking up cannabis industry events from multiple sources online and offline. In order to make the task more convenient for themselves and their site visitors, the owners decided to amalgamate all these events in one spot and organize them into an easy to use calendar.
In order to access GreenRushReview.com's event calendar, users simply need to register for free to get the password. Once the password is entered, users can browse events and read event details such as the name of the event, the event date and time and other venue information. The event calendar is presented in a very intuitive and easy to use format.
One of the cannabis industry events featured on GreenRushReview.com's event calendar is the Marijuana Investor Summit 2015 to be held at the Crowne Plaza in Denver on April 20 to 22, 2015. The Marijuana Investor Summit 2015 is ideal for entrepreneurs, investors, and all individuals interested in the frontier market who wish to learn, share, and network.
Another event featured on GreenRushReview.com's event page is the Major Themes Investment Conference featuring a Legal Cannabis Presentation Track. The event is being put on by IGC and Midtown Partners and is to be held on June 9, 2015 at the Harvard Club of New York City. The event will be a great opportunity for investors to hear from legal cannabis companies, access industry thought leaders, obtain market and regulatory analysis and evaluate investment potential.
GreenRushReview.com strives to be a convenient and reliable online resource for all cannabis consumers, entrepreneurs, and investors. The website aims to provide the general public with extensive coverage on industry news, opinions and happenings of the multi-billion marijuana industry and culture in North America.
The website posts news and articles related to industry companies, trend developments, investment opportunities and legislation. The site also hosts press releases and videos that are pertinent to the industry and a huge cannabis industry company directory.
The coining of the term "Green Rush" refers to the swift surge of activity brought about by the legalization of medical marijuana in over 23 states, and the acceptance of comprehensive cannabis and medical marijuana programs.
Companies or event promoters seeking exposure on GreeRushReview.com can contact editorial(at)greenrushreview(dot)com for more information.