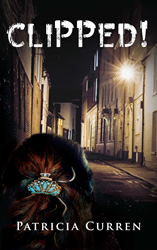 Fourteen-year-old Kendra Morgan is determined to catch a killer and bring justice to her friend's death—and she does not care if she has to risk her own life in the process.
(PRWEB) April 09, 2015
The gruesome murder of middle school student Cloud Nicholson leaves the small town of Finchville, Nebraska in shock. With her friend's murderer unidentified and still on the loose, Kendra Morgan wants nothing more than to find the criminal. Along with her other friend, Audrey, Kendra takes the matter into her own hands and launches her own investigation, not at all caring about the danger she is getting into.
It all starts when Kendra finds Cloud's hair clip in the possession of Billy Ray, a young man with mental disability. Her suspicion, however, later shifts to Mr. Campbell—an older man living alone in the neighborhood—who turns out to be innocent and proves to be a big help in finding more information related to Cloud's death.
The succeeding events take an even more dangerous turn when another girl goes missing and one more is nearly assaulted. Convinced that Cloud's killer is responsible, and he is someone from Finchville, Kendra continues her search for clues that will lead to her to revealing the culprit's identity. But as Kendra draws closer to her target, she learns that she is next on the killer's hit list. And with that terrifying discovery, she now faces a dilemma with only two choices left—either continue her mission or save herself.
Clipped! is now available for purchase at Amazon.com.
About the author.
Patricia Curren was born and raised in Nebraska. She works as a writer for a magazine and newspaper, as well as a fitness center coach; she also volunteers at the local library. In her spare time, she hangs out with her two cats, Cassie and Cajun.
Title: Clipped!
Author: Patricia Curren
Genre: Fiction/Mystery
ISBN: 978-1-4958-0076-4
eISBN: 978-1-4958-0077-1
Pages: 204
Price: $9.87 (Paperback)
Publication Date: September 2014
Publisher: Infinity Publishing