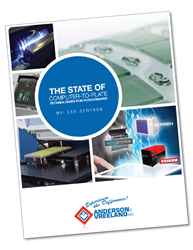 CTP can reduce make-ready and waste, reducing raw material, labor and resources to create the same job vs. film and imagesetters.
Bryan, OH (PRWEB) March 19, 2015
A new white paper on "The State of Computer-to-Plate Technologies for Flexography" produced by Anderson & Vreeland, Inc., leading manufacturer and distributor of flexographic plate processing equipment and materials, explains why investment in CTP technology continues to be beneficial.
"CTP can reduce make-ready and waste, reducing raw material, labor and resources to create the same job vs. film and imagesetters," explains Lee Zerfass,
Digital Business Manager for Anderson & Vreeland. "When you add a workflow, we improve the consistency and speed of how jobs are prepped for press. For higher volume environments, a workflow expedites the time to press, regardless of the operator's experience level as all jobs are treated the same. Then, by adding the benefit of High Resolution Imaging for instance, at 5080 dpi, the quality of the dots or overall job is improved creating a distinction from the competition," added Zerfass.
More brand owners are demanding CTP as part of their requirements to capture their business. By having a CTP offering, converters have the confidence plates going to the pressroom are predictable and repeatable, certainly more so then film-produced plates. In contrast, film imagesetters are becoming less relevant to flexographic platemaking.
The white paper explains the added benefits of CTP technologies and, once the decision is made to go CTP or expand the CTP offering, how to proceed. To download the entire white paper for free, visit http://andersonvreeland.com/white-papers.
About Anderson & Vreeland, Inc.
Founded in 1961, Anderson & Vreeland has earned an international reputation as a leading provider of flexo prepress solutions for the graphic arts industry. The company offers a "systems" approach to conducting business by evaluating customer needs and offering the best solutions in the form of equipment, materials, training, and technology tailored for each customer. A&V supports these solutions with over 50 years of experience and a staff of technical sales representatives thoroughly knowledgeable about the fine points of flexo. The company's substantial flexo experience and technical support sets it apart from other prepress suppliers. This experience and support results in smoother and easier integration of technical advancements affecting flexo prepress. Further information is available on the web at http://www.AndersonVreeland.com.