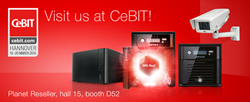 We are excited to be presenting our latest products at this year's CeBIT trade show. This is a great opportunity to create a dialogue between our team and the market, and to receive quality feedback from our partners and customers.
London, UK (PRWEB UK) 17 March 2015
Buffalo Technology, the global manufacturer of storage and networking solutions, announced it will be showcasing all of its latest products at CeBiT, including the new LinkStation 520 (LS520) and the updated TeraStation 5000 series, now available fully populated with high-reliability WD Red™ drives.
Buffalo is also planning to disclose several future products at the event, not yet announced, including new 11ac ultrafast wireless routers and the Thunderbolt 2, ultrafast high capacity desktop external storage (DAS) for high-end Mac users.
The ultimate file sharing station for consumers
The LS520 offers consumers a high-spec storage solution. The inclusion of an ARM-based dual core CPU and ultra-fast data transfer speeds of 100 MB/s, make sharing files quick and easy for busy people. The storage solution has a modern user-friendly desktop-type graphical interface. It also enables users to access saved files from multiple devices at the same time including smartphone, tablet, PC/Mac or TV, making it the perfect device for sharing photos and videos with friends and family. The LS520 also has a HDD sleep and timer, which minimises power consumption, ideal for extended access to personal data. The LS520 will be available from the middle of April in 2,4,6 and 8 TB versions.
New additions to the TeraStation 5000 series offer businesses next generation performance
Buffalo will be showcasing recent updates to the TeraStation 5000 series, including the addition of WD Red™ drives to all models. Following the TeraStation 5400 series launch in early February, the new TeraStation™ 5800DWR is available for purchase.
Buffalo's TeraStation™ 5800DWR series delivers top-of-class 8-bay Network Attached Storage and comes fully populated with high-reliability WD Red™ drives: perfect for production environments, medium, large, and growing businesses, and overall demanding users. Managing data, backups, and data sharing is made easy with Buffalo's TS5800DWR, now available in total capacities of 8, 16, 24, or 32TB.
The TeraStation 5200 is set to receive the update shortly.
Buffalo is located in the Planet Reseller, Hall 15, Booth D52. For more information please visit the website: http://www.cebit.de/home