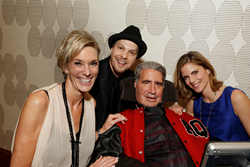 Los Angeles, CA (PRWEB) March 17, 2015
With support from loyal sponsors and dedicated fitness professionals, Augie's Quest 10 Year Reunion Bash exceeded its own expectations by raising more than $1.8 million for ALS (amyotrophic lateral sclerosis, or Lou Gehrig's disease) research on Friday, March 13. The event is presented by IHRSA (International Health, Racquet, and Sportsclub Association (http://www.ihrsa.org).
The 10 Year Reunion Bash took place at the JW Marriott, Los Angeles, and featured headline entertainment from Grammy-nominated recording artist, Gavin DeGraw. The start of the evening also featured a special performance from Grammy-nominated singer/songwriter John Ondrasik of Five for Fighting, and Natalie Morales from NBC's Today Show served as Master of Ceremonies.
"I am so grateful to my friends in the fitness industry for embracing this event every year and helping us fund this important research. Ten years ago, at the first BASH, I didn't think I would see this day. Now I'm here watching my former peers stand by me for the 10th year in a row. It's unbelievable," said Augie Nieto, founder of Augie's Quest.
This year's sponsors included: 24 Hour Fitness, The Bay Club Company, Technogym, Zumba, The Atlantic Club, Planet Fitness, Crunch Fitness, Newtown Athletic and Life Fitness, among others.
For more information about Augie's Quest, please contact Gretchen Simoneaux: (760) 415-9836 or gsimoneaux(at)als(dot)net
About ALS
Amyotrophic lateral sclerosis (also known as Lou Gehrig's disease) attacks the nerve cells that control muscles, ultimately resulting in paralysis of all voluntary muscles, including those used for breathing. Average life expectancy for people with the disease is three to five years after diagnosis.
About Augie's Quest
The purpose of Augie's Quest has always been to fund research and drug development aimed at ending ALS, Lou Gehrig's disease. Since 2007, Augie's Quest has raised over $44 million in support of finding effective ALS treatments- making it the largest individual fundraising program for ALS!
All funds raised by Augie's Quest benefit the ALS Therapy Development Institute, the world's largest ALS-dedicated drug development organization. Support comes from a huge network of national events and promotions, including the BASH for Augie's Quest, Tradition of Hope Gala and widely successful campaigns within the very generous fitness industry, such as the Clubs for the Quest, as well as a hugely innovative joint-fundraising initiative called the ClubCorp Charity Classic which benefits Augie's Quest and other local charities chosen by that networks members directly. For more information, visit http://www.augiesquest.org.
The ALS Therapy Development Institute and its scientists actively discover and develop treatments for ALS. The Institute is the world's first and largest nonprofit biotech focused 100 percent on ALS research. Led by ALS patients and their families, the charity understands the urgent need to slow and stop this horrible disease. Based in Cambridge, MA, the Institute has served as one of the leaders in sharing data and information with academic and ALS research organizations, patients and their families. For more information, visit http://www.als.net.