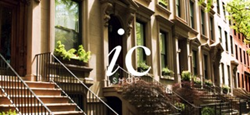 "The next time you get the impulse to shop your [hotel] room, just log into IC Home and you can do just that," explained Foiz Ahmed, Vice President Independent Collection. "We like to call it our 'boutique within a boutique.'"
Philadelphia, PA (PRWEB) March 18, 2015
Often times it is the everyday that evokes nostalgia and heralds great memories of travel and experiences. From yoga mats to mid-century inspired alarm clocks, taking home a little piece of a hotel experience has never been easier. Introducing IC Shop, the Independent Collection's new online store, a curated selection of travel, home and specialty items.
HHM's Independent Collection, IC as it is commonly called, is a cultivated collection of intimate lifestyle hotels located in distinct and culturally rich neighborhoods from coast to coast. The boutique hotel group has launched IC Shop in partnership with hospitality expert Parker&Morgan. Here, guests and would-be guests can browse and purchase a curated selection of items either found in, or inspired by, Independent Collection hotels, their neighborhoods and other unique travel experiences.
"If you have ever wanted to take an item in your hotel room home with you —and who hasn't? — IC Shop satisfies that desire, allowing guests to take that feeling of discovery home with them," said Foiz Ahmed, Vice President of Independent Collection hotels. "So much thought goes into the overall experience at each Independent Collection hotel. The overall result is that of simple sophistication, but it's all in the details. Each item is carefully considered and the merchandise found in IC Shop reflects that elevated level of detail."
Independent Collection hotels embrace the neighborhoods in which they are located through style, design features, amenities and staff recommendations. In accord, IC Shop also offers a selection of items from shops local to Independent Collection hotels. IC Shop, which lives online on all of the individual hotel's websites as well as on the Collection's website, also offers items found in some or all IC hotel guestrooms in addition to a number of items that are inspired by the design and style of IC Hotels. For example, guests can purchase a t-shirt created by Duane Street hotel on IC Shop in addition to some high-end and stylish pet travel products, which can be used at one of IC's pet friendly hotels.
"In launching IC shop, the IC is bringing great local finds to our guests," added Ahmed. "The next time you get the impulse to shop your room, just log into IC Home and you can do just that. We like to call it our 'boutique within a boutique'."
About The Independent Collection: The IC is a growing collection of cultivated and intimate lifestyle hotels located in unique residential neighborhoods of gateway cities across the US. Founded in New York in Tribeca and then Brooklyn, it has grown to Boston's West End, Midtown Village in Philadelphia, Washington's Capitol Hill and Georgetown, down to Miami's South Beach and west to Hotel Milo Santa Barbara across the last five years. This distinctive hotel concept is renowned for its authentic connection to the local communities, personalized service and residential comforts. Independent Collection hotels are created for the independently minded traveler and invite guests to experience the true spirit of the city.
About HHM: Formerly known as Hersha Hospitality Management, HHM operates 115 hotels across the United States. It provides turnkey hotel management, asset management and receivership for properties with leading brand affiliations through Marriott, Hilton, Hyatt, Starwood, and Intercontinental Hotel Group. HHM also operates 28 independent hotels ranging from The Rittenhouse Hotel, a AAA Five Diamond property in Philadelphia, to the Larkspur Landing hotels, all-suite extended stay properties in Northern California and the Pacific Northwest. Its highly experienced team is accustomed to serving as a fiduciary to publicly traded companies, joint ventures, institutional real estate owners and private investors.