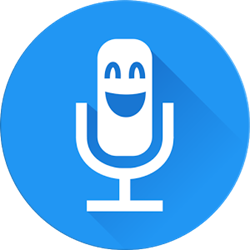 (PRWEB) March 19, 2015
The creative voice effects app from Sergio Viudes is now enabled for Android* tablets powered by Intel® Atom™ processors. Mobile device users can import, record and alter their voices in hilarious ways.
This simple, intuitive app captures the user's voice and makes dozens of filters available to play with a wide range of sounds. Masks include wild effects like Monster, Cave, Backwards, Alien or Child. Disguising speech or telling jokes in silly voices is instant and entertaining, and users can also import clips, even create ringtones and notifications. Wacky new songs, stories or sayings can be shared via WhatsApp*, Facebook* or email.
Now mobile device users worldwide have fast access to this engrossing activity, with so many distortions, and crisp, high-quality audio, even commonplace phrases sound outlandish. Sergio Viudes had access to support and resources through the Intel® Developer Zone.
"The Voice Changer app is like being in a sonic funhouse," says Sergio Viudes, developer of the app. "Utilizing the lightweight portability of Android* tablets powered by Intel Atom processors, users can have so much fun modifying their voices and sharing the results."
Voice Changer is available for immediate download at Google Play: https://play.google.com/store/apps/details?id=com.baviux.voicechanger
About Sergio Viudes:
Sergio Viudes is an app developer responsible for Voice Changer and the Baviux series. For more, visit: http://www.baviux.com/
About the Intel Developer Zone
The Intel Developer Zone supports independent developers and software companies of all sizes and skill levels with technical communities, go-to-market resources and business opportunities.
To learn more about becoming an Intel® Software Partner, join the Intel Developer Zone.
Intel, the Intel logo and Intel Inside are trademarks of Intel Corporation in the U.S. and/or other countries.
*Other names and brands may be claimed as the property of others.
Copyright © 2015 Intel Corporation. All rights reserved.