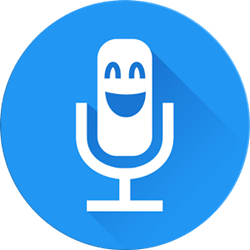 (PRWEB) March 23, 2015
A new brief from the developer behind Voice Changer highlights the app's entertaining capabilities, now that it is enabled for Android* tablets powered by Intel® Atom™ Processors.
Voice Changer allows users to record their own voice, or import audio clips into the application and then apply a wide variety of filters to modify the sounds. With over 33 audio masks, users can make their voices sound like a Monster, Alien, or use neat effects like Canyon, Everything is Spinning, or Hexafloride.
The app makes it easy to take modified files and create ringtones or notifications, as well as share their silly or scary voices with friends on social media or via email. Making inventive songs, sayings or strange effects is simple and enormously engaging.
The brief notes that this creative application enjoys a new and expanded audience with recent optimization for mobile devices. Downloading the app takes seconds and opens up a world of sonic exploration for users.
About Sergio Viudes:
Sergio Viudes is an app developer responsible for Voice Changer and the Baviux series. For more, visit: http://www.baviux.com/
About the Intel Developer Zone
The Intel Developer Zone supports independent developers and software companies of all sizes and skill levels with technical communities, go-to-market resources and business opportunities.
To learn more about becoming an Intel® Software Partner, join the Intel Developer Zone.
Intel, the Intel logo and Intel Inside are trademarks of Intel Corporation in the U.S. and/or other countries.
*Other names and brands may be claimed as the property of others.
Copyright © 2015 Intel Corporation. All rights reserved.