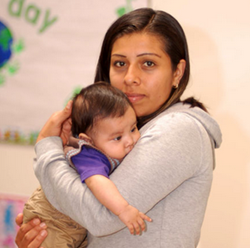 Robert Feldman, the agency's principal, attested, "We understand the position Karen and her children have been placed in, and are doing everything in our power to provide her with the help she needs to keep her and her family out of harms way."
Palo Alto, CA (PRWEB) March 18, 2015
With agencies in Verdugo City and Los Angeles, LCSB Agency celebrates the beginning of a new charity campaign in Southern California as part of its ongoing Community Program, currently looking to raise funds for a single mother and her three children, on the verge of becoming homeless. The agency calls to all those touched by this story and would like to help this family in their time of need, can now join their efforts by contributing through the designated donations page: http://lcsbagency.com/A-Home-For-Mommy-And-Us!_15_community_cause.
Robert Feldman, the agency's principal, who has helped touch the lives of many other individuals and families in the communities where his agencies are located, attested, "We understand the position Karen and her children have been placed in, and are doing everything in our power to provide her with the help she needs to keep her and her family out of harms way."
The agency has set a goal to collect the amount of $500. To achieve this goal, the agency's network of customers, business partners, friends, staff and family are being invited to actively participate by not only contributing financially, but also by helping spread the word.
LCSB Agency continues to employ its own resources to ensure the success of their community program. The current campaign is being promoted through the agency's social media channels, email and text message communications, as well as through their monthly magazine, delivered to thousands of households in California. In fact, Our Hometown magazine reserves a full page to feature this worthy cause, including all of its details. The electronic Flipbook version of the current issue can be accessed here: http://www.lcsbagency.com/Our-Hometown-Magazine_41.
The donations page at http://lcsbagency.com/A-Home-For-Mommy-And-Us!_15_community_cause will be kept active until the end of April, where donors are encouraged to contribute. The agency will acknowledge in their monthly magazine all of those who donate a minimum of $5 to help Karen and her family find a new home.
LCSB Agency will continue to work with individuals and nonprofits in the area to identify new worthy opportunities to support the community, every 60 days. Through the agency's website, any members of the community can also submit information on known families or persons who need help – http://www.lcsbagency.com/Add-Community-Cause_49. Entries are diligently submitted for review, and the elected worthy causes are properly contacted by a representative of LCSB's Community Program. More information regarding past and current campaigns supported by the LCSB Agency can be found at http://www.lcsbagency.com/community-cause.
About LCSB Agency
LCSB Agency has a goal—for their customers to think of them as their trusted advisor. They do this by delivering quality insurance products and the best customer service experience possible. The LCSB team of licensed agents and experienced associates work together to ensure they deliver prompt, courteous and accurate solutions to their customers on a daily basis. To contact an expert at LCSB Agency, call 888-983-6400 or 310-478-4344.