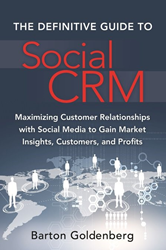 The Definitive Guide to Social CRM, captures how a firm should plan, manage, and leverage Social Media as a means to increase the bottom line. Cyrus Aram, Senior Director, Blue Shield of California
Bethesda, MD (PRWEB) March 18, 2015
"The integration of Social Media and CRM technology has created the entirely new 'Social CRM' marketplace that is forecasted to grow to more than a $9 billion global market by 2018," according to Barton Goldenberg, Founder & President of ISM, Inc. and author of the new book The Definitive Guide to Social CRM (ISBN–10: 0-13-413390-0) that will be published by Pearson on March 20. Orders can be placed at http://www.ismguide.com/book.
Social CRM consists of harvesting 'social insight' information from public and private Social Media websites, integrating this information into customer profiles housed within CRM software applications, and engaging with customers via their preferred channel.
"Social CRM is already propelling customer engagement to new heights and allowing companies to provide personalized customer service, marketing messages and sales offers," said Goldenberg.
Cyrus Aram, Senior Director, Blue Shield of California & Lecturer, University of California, Davis had this to say about Goldenberg's new book: "Barton Goldenberg is simply the most effective transformational leader I have met. His business acumen is matched only by his ability to understand the dimensions behind how change stems from a customer's needs to a firm's operations. Now Barton in his new book, The Definitive Guide to Social CRM, captures how a firm should plan, manage, and leverage Social Media as a means to increase the bottom line."
Goldenberg has been at the forefront of CRM over his 30-year career and was one of the three initial inductees to the CRM Hall of Fame, in addition to multiple industry awards. His in-the-trenches experience has made him a sought-after speaker and a long-term columnist for CRM magazine. Goldenberg's previous best-seller books, CRM Automation and CRM in Real Time, provide earlier roadmaps for cutting-edge customer relationship management.
Since its founding in 1985, ISM has established itself as the premiere strategic advisor to organizations planning and implementing CRM, Social CRM, Big Data Analytics & Insights, Customer Experience, Branded Communities, and Channel Optimization initiatives. Led by Founder and President Barton Goldenberg, companies, non-profits and government agencies receive hands-on guidance from one of the most experienced teams in the world. Based in Bethesda, MD, check out ISM at http://www.ismguide.com and Goldenberg's speaker website at http://www.crmsocialmediaspeaker.com.
For a review copy of The Definitive Guide to Social CRM, contact Tracey Houston at thoston(at)ismguide(dot)com or 301-656-8448.