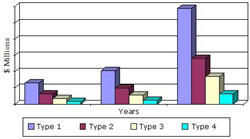 The global market for ultrafast lasers is expected to reach nearly $5.5 billion in 2019
(PRWEB) March 20, 2015
BCC Research (http://www.bccresearch.com) reveals in its new report on ultrafast lasers, the market is expected to grow from $1.2 billion in 2013 to $5.5 billion in 2019, at a compound annual growth rate (CAGR) of 23.7% from 2014 through 2019. The market is increasing at a decent pace, and is not likely to be saturated during the forecast period.
The ultrafast laser has been in R&D for many years, and is gradually finding extended applications in the medical and photovoltaic sectors. In the materials processing sector, ultrafast lasers may offer performance and cost advantages that are very attractive in machine tools, instruments, semiconductor inspection tools and surgical tools.
Strong growth of ultrafast lasers is anticipated during the forecast period, as fiber lasers enable lower-priced products, which are necessary for micromachining. Diode-pumped lasers and fiber lasers should command a market share of more than 79% in the overall ultrafast laser industry by 2019. With their expanding use in science and research, the market for titanium-sapphire lasers is predicted to spread at the fastest CAGR of 24.9% from 2014 through 2019.
"Due to declining prices, users are finding new applications of ultrafast lasers," says BCC Research analyst Sinha G. Gaurav. "Q-switched lasers are being substituted with ultrafast lasers. Also, some non-laser techniques such as surgical scalpels and mechanical saws are being substituted due to their similar functionality traits and easy-to-handle features."
Ultrafast Lasers: Technologies and Global Markets analyzes the ultra fast lasers industry and its related technologies. The report covers different types of ultra fast lasers including titanium-sapphire lasers, diode-pumped lasers, fiber lasers, and mode-locked diode lasers, and pico-second and femtosecond ultrafast lasers. Projections are provided through 2019.
Editors and reporters who wish to speak with the analyst should contact Steven Cumming at steven(dot)cumming(at)bccresearch(dot)com.
About BCC Research
BCC Research publishes market research reports that make organizations worldwide more profitable with intelligence that drives smart business decisions. These reports cover today's major industrial and technology sectors, including emerging markets. For more than 40 years we've helped customers identify new market opportunities with accurate and reliable data and insight, including market sizing, forecasting, industry overviews, and identification of significant trends and key market participants. We partner with analysts who are experts in specific areas of industry and technology, providing unbiased measurements and assessments of global markets. Recently selected as the world's greatest market research company, BCC Research is a unit of Eli Global, LLC. Visit our website at http://www.bccresearch.com. Contact us: (+1) 781-489-7301 (U.S. Eastern Time), or email information(at)bccresearch(dot)com.