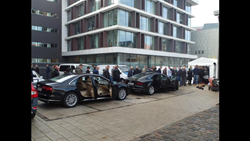 We focus on keeping our clients safe, happy and productive no matter where they need to travel.
Bellevue, Washington (PRWEB) March 24, 2015
AS Solution, a leading provider of executive protection and other security services for Fortune 500 corporations, has just announced record results for 2014. Last year, the privately owned company increased group revenue by 59% and completed more than 1,600 executive protection details worldwide.
According to CEO Christian West, the strong performance is due especially to increased activities in the U.S. "Our U.S. client base has grown in all industries, and our U.S. clients are more active than ever internationally. As their needs for executive protection and secure transportation expand, so does our business."
Unlike many other executive protection companies, AS Solution has particular experience in corporate settings. "Over the years, we have developed extensive expertise in working closely with C-suite executives and their organizations," explains West. "We have a deep understanding of how security works – and doesn't work – when it comes to matching our principals' lifestyles and corporate cultures. This, together with our ability to quickly deploy reliable teams of vetted pros anywhere in the world, is really essential in keeping our clients safe, happy and productive no matter where they need to travel."
AS Solution carried our over 1,600 security details in 49 countries during 2014.
In addition to major clients in the IT, financial, pharmaceutical and oil & gas industries, AS Solution also serves a number of high-net-worth individuals and family offices.
AS Solution provides executive protection, secure travel and other security services based on a proven system of risk, threat and vulnerability analysis.
For more information, please contact Kelly Snelling, kes(at)assolution(dot)com, telephone +1 (425) 296-3017 X 100
AS Solution provides a full spectrum of corporate and personal security services that includes executive protection, secure transportation, event security, estate security, anti-piracy security, embedded security as well as security training and consulting. Clients include major corporations, NGOs and high net worth individuals and families in the US, Europe, Asia and Africa. For more information, see http://www.assolution.com.