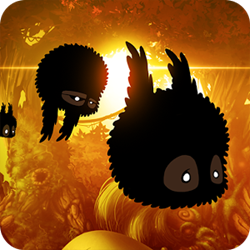 (PRWEB) March 19, 2015
The design team at Frogmind brings the award-winning BADLAND challenge to a new audience of gamers by enabling the app for Intel® Atom™ Processor-based Android* tablets. This side-scrolling, otherworldly atmosphere has a reputation that precedes it.
With sharp, comic book-style graphics, this app imagines what Pac-Man* would be like in the apocalypse. Teeming with alien plants and animals, this bizarre plant is overtaken by cantankerous industrial invaders. The inhabitants can race to solve the crisis, or join forces to supplant the aggressors. Players must be crafty, since around every turn there are robotic predators, trap doors and secret passageways. With 100 levels for single players and the option to cooperate or compete in up-to-four player local multiplayer modes, BADLAND ushers in a new phase of gaming allure.
The game takes on fresh resonance on the newest generation of tablets, with evocative sound, stunning illustrations and an animation style all its own, BADLAND has a whole new captive audience with optimization for mobile devices. Frogmind had access to a portfolio of business and technical tools during optimization through the Intel® Developer Zone.
"BADLAND takes side-scroll platforming to an alternate, high-energy place," says Johannes Vuorinen, CEO at Frogmind. "Android* tablets powered by Intel Atom Processors really magnify all the intricate details of the game."
BADLAND is available for immediate download at Google Play: https://play.google.com/store/apps/details?id=com.frogmind.badland
About Frogmind:
Frogmind is a 100% indie mobile game developer that started as a two-man team. They believe in small teams, high production values and awesome games. For more information, visit: http://frogmind.com/
About the Intel Developer Zone
The Intel Developer Zone supports independent developers and software companies of all sizes and skill levels with technical communities, go-to-market resources and business opportunities.
To learn more about becoming an Intel® Software Partner, join the Intel Developer Zone.
Intel, the Intel logo and Intel Inside are trademarks of Intel Corporation in the U.S. and/or other countries.
*Other names and brands may be claimed as the property of others.
Copyright © 2015 Intel Corporation. All rights reserved.