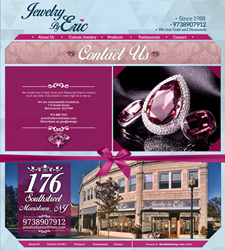 Morristown, New Jersey (PRWEB) March 20, 2015
With winter waning and spring beginning to bloom, it is the perfect time to brighten up the moods of loved ones with custom-made, high quality jewelry. Located conveniently at 176 South Street in Morristown, New Jersey, Jewelry by Eric can help express love and appreciation with one-of-a-kind pieces tailored towards their recipients.
To celebrate the season of renewal, Jewelry by Eric is holding a Spring Sale meant to add vibrant and exquisite jewelry to any collection. As the winter coats and heavy clothes are put away, the season to shine is just around the bend. So stop in or head over to http://www.JewelryByEricInc.com for more details and information.
After thirty years of jewelry craft (skills that he learned from his family) Eric can provide the finest custom jewelry that reflects upon his lifetime of experience. Given the spacious storefront in the beautifully historic Morristown, no task or piece is beyond Eric's capabilities.
Whether it's a diamond ring for a proposal or an elegant gemstone necklace, no matter what the occasion or need, Jewelry by Eric will create a truly unique piece of jewelry in house sure to satisfy those with a specific look in mind. With Eric's impressive collection of 14k fine jewelry and gold pieces, as well as GIA/EGL certified diamonds, finding the perfect gift or accessory is a breeze. And for those who aren't in the market for something new, capitalize on decades of jewelry crafting experience by taking advantage of Eric's expert repair service. After all, returning a cherished and valued piece to near new condition is just as good (if not better).
Jewelry by Eric also purchases gold and diamonds, so for those who have extra jewelry lying around feel free to bring it in and exchange it for cash or something new. Whatever it is, if it's in regards to jewelry make sure it's Jewelry by Eric.
Contact Information:
Website: http://www.JewelryByEricInc.com
Phone: 973 890 7912