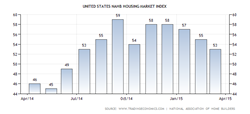 the housing market is on track to show higher summer numbers than last year
Chicago, IL (PRWEB) March 17, 2015
Lenders like Peoples Home Equity were a bit disappointed by Monday, March 16th's NAHB Housing Market Index announcement.
The Housing Market Index was reported Monday, March 16th as having fallen "two points to an index level of 53." This is now the 3rd consecutive fall of the index value. The index was as high at 58 in December, fell to 57 In January, then 55 in February, and is now down to 53 in March. This is now the lowest reading since July 2014.
NAHB Chairman Tom Woods, a home builder from Blue Springs, Mo put a positive tone on the declining report by stating, "Even with this slight slip, the HMI remains in positive territory and we expect the market to improve as we enter the spring buying season." Peoples Home Equity agrees with Mr. Woods optimism. Given that the index is at the same level as July 2014 in March 2015, arguable the trough of the winter housing slump, the housing market is on track to show higher summer numbers than last year.
Mr. Woods points out that the housing market would be performing even better if it were not for "supply chain issues, such as lot and labor shortages as well as tight underwriting standards." Looking to the future Mr. Woods expects, "These obstacles notwithstanding, we are expecting solid gains in the housing market this year, buoyed by sustained job growth, low mortgage interest rates and pent-up demand."
As stated in its monthly home sales index report, "The NAHB/Wells Fargo Housing Market Index is "gauged builder perceptions of current single-family home sales and sales expectations for the next six months as 'good,' 'fair' or 'poor.' The survey also asks builders to rate traffic of prospective buyers as 'high to very high,' 'average' or 'low to very low.' Scores for each component are then used to calculate a seasonally adjusted index where any number over 50 indicates that more builders view conditions as good than poor."
Peoples Home Equity shares a similar view of the future. The lender stated following in a recent March 17th release titled "Weekly Median Home Sales Continue Show Strength Versus A Year Ago":
"Peoples Home Equity is also optimistic about how mortgage applicants will react to the end of tax season and the winter on March 20th. Peoples Home Equity expects a surge in mortgage applicants after individuals/families file their 2014 taxes showing the income/combined incomes of their new jobs or pay raises. America's labor market is in its strongest position since prior to the recession. American's have had a chance to pay their bills, restore and build their credit, and save for a down payment. Prospective mortgage applicants, especially young first-time home buyers, eager to stop paying their rent, are expected to flood lenders with applicants this year."
If in need of a mortgage, contact a Peoples Home Equity loan officer today at: 262-563-4026