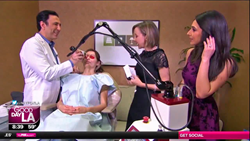 Los Angeles, CA (PRWEB) March 18, 2015
On March 13, 2015, the Wall Street Journal reported in an online article titled "Beyond Botox: New Anti-Aging treatments That Will Leave you Looking Like Yourself" that cosmetic dermatologists are moving away from treatments that may result in a "frozen face" to energy-based devices that heat the deeper layer of the skin in order to stimulate the production of collagen. The report blames the overuse of Botox and dermal fillers for the overtly plastic, unnatural appearance of red carpet celebrities. (see: goo.gl/ttEJMO)
"I have to say that my practice has been focused on this 'natural' aesthetic for years," says Dr. Simon Ourian, Medical Director of Epione Beverly Hills. "I was an early adopter of laser treatments and we've since incorporated ultrasound and radio-frequency devices to optimize results."
According to the Wall Street Journal report, these new, non-invasive treatments use radio-frequency, ultrasound energy, often coupled with lasers. The basic theory is that the dermis is targeted with heat, inflicting a controlled wound that initiates the body's natural healing processes, specifically the production of collagen. The report also notes that these treatments cause very little pain or scarring and require little or no down time.
"Despite what the article says, in my opinion there is still very much a place for Botox and dermal fillers," says Dr. Ourian. "The key is to use injectables judiciously to subtly replace lost volume or minimize the appearance of dynamic wrinkles."
Dr. Ourian has been a pioneer in laser technology and non-invasive aesthetic procedures including Restylane, Juvéderm, Radiesse, Sculptra, and CoolSculpting. These treatments are used for the correction or reversal of a variety of conditions such as acne, acne scars, skin discoloration, wrinkles, unwanted fat, stretch marks, varicose veins, cellulite, and others. More information about plastic surgery can be found on Epione's website.