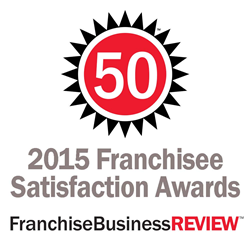 We were honored to be ranked top in our category among other very respectable franchise organizations...
Sandy, Utah (PRWEB) March 23, 2015
Franchise Business Review ranked InXpress as one of the top 50 franchise organizations, earning them the award of top franchise in its category.
"To be ranked for the 4th year in a row is a huge accomplishment for us," said Aimee Raddon, Marketing Director at InXpress USA. "Not only is it great publicity, but it's also a reflection on the amazing work being done here at InXpress and the quality service we provide."
InXpress provides delivery and shipping solutions to local businesses. Acting as a strategic business partner and cost-saving advocate, InXpress provides personal service and shipping details, while world class carriers like DHL handle pick-ups and deliveries. This provides customers with greater value and personalized service saving them time and money.
In determining the rankings, list creators from Franchise Business Review use the same criteria for all companies. Rankings are determined primarily from quantifiable measures of franchise operations like financial strength, growth rate and years of operation. This ensures that franchises are fairly judged against one another and only the top franchises make the list.
"One of the best ways to know if a franchise is really a good opportunity is to look at franchisee satisfaction data," said Michelle Rowan, President of Franchise Business Review. "Many of the companies on our Top 200 Franchises list share their Franchisee Satisfaction Reports publicly in order to provide potential franchisees with frank feedback regarding their training and support, financial opportunity, and other key areas that influence the health of a franchise system."
"We were honored to be ranked top in our category among other very respectable franchise organizations," said Dustin Hansen, InXpress Americas Chief Executive Officer. "But we can't sit back and relax; we need to make the list next year, too."
Founded in 1999 and rolling out the franchising side of their company in 2000, InXpress now has offices in 90 locations across the United States, 172 others internationally and plans for more to come.
About InXpress
Since 1999 InXpress has served international customers with complete, customizable shipping solutions. Its online shipping software, WebShip, provides a fully automated shipping process and franchise owners around the world deliver best-in-class customer service. For more information visit http://www.InXpressUSA.com or call 801-495-7894.