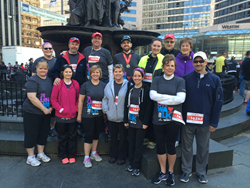 Being a stroke survivor, I know firsthand the value the AHA has on improving the diagnostic, treatment and education of having a stroke.
Florence, KY (PRWEB) March 18, 2015
A team of 15 Balluff employees participated in Cincinnati's Heart Mini Marathon on March 15, raising almost $4,000 for the American Heart Association.
Balluff and its employees have participated in the Heart Mini for nine years, donating an average of $3000 every year to the American Heart Association.
Leading up to the event, Balluff team members shared their reasons for participating on the company's Facebook page. Mike, a longtime Balluff employee and survivor, shared, "I walk to support the cause since I had a heart attack in August of 2005, and this will be my 9th walk." Bill, another employee and survivor shared, "Being a stroke survivor, I know firsthand the value the AHA has on improving the diagnostic, treatment and education of having a stroke."
Other Balluff team members said they walk for awareness, health, and family. Leah stated, "Heart disease and Hypertension are common medical issues in my family. My reason for walking in the Heart Mini is to raise awareness so future generations will choose to live a heart healthy lifestyle. Educating yourself is half the battle, making the right choices is winning the war!" And Terra shared, "I have several really great reasons to do the Mini Heart; the most important is my Grandchildren. I don't want to be a 'watcher' with my grand's, I want to join in and be active with them."
The Heart Mini is Cincinnati's largest single-day fundraiser and hometown favorite of 38 years. Each year close to 25,000 registrants come together to participate in this heart healthy exercise and raise life-saving funds to fight the #1 and #4 killers, heart disease and stroke. The American Heart Association is the largest voluntary health organization working to prevent, treat and defeat heart disease, stroke and other cardiovascular illnesses.
Learn more about Balluff at http://www.balluff.us and see them on Facebook, along with more employees' Heart Mini reasons from the event on http://www.facebook.com/balluffsensorsusa
See photos from the event on Flickr.
Learn more about the American Heart Association at http://www.heart.org
About Balluff Inc.
Balluff Inc., the U.S. subsidiary of Balluff GmbH, Neuhausen, Germany, is a leading manufacturer of a wide range of inductive, photoelectric, vision, capacitive and magnetic sensors as well as linear position transducers, RFID systems, and networking products. Balluff products for OEM and factory floor solutions are used to control, regulate, automate, assemble, position, and monitor manufacturing, assembly, and packaging sequences for industries including: metalworking, automotive, plastics, material handling, wood processing, aerospace, alternative energy, medical, electrical, and electronics.