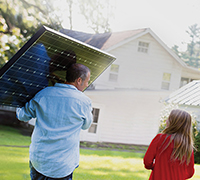 The right team for a project can greatly improve the homeowner benefits
(PRWEB) March 19, 2015
Making the important decision to include solar power as a home source of energy is a valuable investment. When doing something so important, consumers want to be able to know how to choose the best team to complete the project. Completing tasks along the way such as filing for tax credits, getting permission to operate permits, financing, and understanding potential savings are all easier with a qualified company who understands solar consumer needs. Choosing the right team for a project can greatly improve the homeowner benefits. SPS is a solar power company that works to provide homeowners with the best options and tools to make the right decisions for going solar. SPS advisor Rich Parks drafted a tip sheet to help consumers who are searching for the right solar installer on a residential project for their home.
Rich goes on to explain what his goal is with the current tip sheet. " Our company has been a leader in providing the necessary tools and information for homeowners to make the decisions for their solar project all on their own. This tip sheet is a tool and essentially like a checklist to refer to when choosing the right team for any residential project," explains Rich. The tip sheet below includes five concepts and ideals for homeowners to keep in mind.
SPS suggests these tips for homeowners to find the most qualified solar installers for their residential projects.
1. Proper Insurance and Licensing. In the event of a possible accident, which hopefully won't happen, will require your installation company to have proper insurance and licensing to protect you from being liable. The absolute minimum that your company really should have is a general contractor's license along with worker comp and general liability insurance for the protection of it's clients.
2. Long Term Warranties. Having a long term warranty with your installer is crucial. Solar is an investment, so you want to know you're covered completely in case for some reason your investment is not returning an earning or saving like it should. The warranty of the system should be as long as the homeowners lease term or if the system is purchased then get a warranty for 20 years minimum.
3. First impression. If a company wants to rush you through a consultation and get you to sign on the dotted line without asking important questions about your goals, you know they won't be for you. A caring company will let its clients guide the consultation by collecting information about their goals and unique energy needs in order to formulate a personalized solar project for that homeowner. Do not accept a one size fits all approach from an installer.
4. Quality. The quality of the solar panel going on your roof should be trusted and be high grade for maximum energy production. Ask what kind of panels are being used and don't hesitate to demand some background information on the panels themselves, such as manufacturer, tested quality of the panel, and the return rates.
5. Leasing and Financing Programs. Understanding what leasing and financing programs have to offer will give homeowners a great idea on if they should choose a particular company. Homeowners want to know the company they are working with has their financial goals in their best interest providing them ample leasing and financing options.
SPS provides a free in home consultation to discuss this further with any homeowner looking to reduce emissions and cut utility bills dramatically.