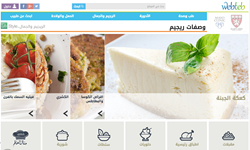 WebTeb- social media influencer
Amman, Jordan and Ramallah, Palestine (PRWEB) March 18, 2015
WebTeb, the leading Arabic health and lifestyle portal, announced today that it has won the ASMIA Award – the Arab Social Media Influencers Summit Award. The award was presented today to Dr. Mahmoud Kaiyal, WebTeb's founder and CEO by his Highness Sheikh Mohammed Bin Rashid Al Maktoum, the UAE Vice President and Prime Minister and Ruler of Dubai, in recognition of WebTeb's achievements in promoting the health and well-being of Arab Internet users and in recognition of WebTeb's leadership position in the Arab language Internet.
ASMIA Is the first awards ceremony that highlights the most compelling social media driven initiatives by Arabs. It honors innovations by both individuals and institutions who have made a positive impact on the development and prosperity of their communities, while contributing to the progress and development of people. Other winners included MBC tv-group, UAE Ministry of Foreign Affairs and Coca Cola.
The award's objectives are to

Boost engagement and encourage communication across social media channels.
Encourage creative thinking and contribute to the development of people and communities.
Increase awareness for issues of concern to the Arab community in a responsible and positive manner.
"We are honored to win this award – we view social media as an important tool in brining better information about lifestyle, health and medical choices to Arabic users, changing people's lives for the better," said Dr. Mahmoud Kaiyal, founder and CEO of WebTeb. "This would not happen without the support of WebTeb's employees and management."
About WebTeb
WebTeb's goal is to provide Arabic-language comprehensive health and medical information so that its Arabic-speaking users can live better and healthier lives. WebTeb publishes exclusive and high-quality evidence-based medical information and continuously updates it. WebTeb strives to be the leading professional and reliable source of information for Arabic-speaking users and to provide a platform for their interaction with health practitioners, hospitals, doctors, dentists, pharmacies, pharmaceutical companies, insurance companies, therapists, and health education institutions.