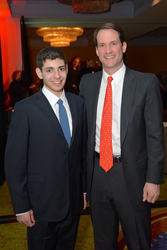 I'm no stranger to failure on or off the ice
Westport, CT (PRWEB) March 20, 2015
Smart Kids with Learning Disabilities presented ice skating medalist Zachary Milestone of New Jersey, with $1,000 as the winner of the 2015 Fred J. Epstein Youth Achievement Award. The non-profit also honored five other youth achievers as part of its 15th Anniversary Benefit HELPING KIDS ROCK Their Potential, held on March 7, 2015, at the Stamford Marriott in Stamford, Connecticut.
The Youth Achievement Awards are named in honor of Fred J. Epstein, the eminent pediatric neurosurgeon and pioneer in his field. He gained prominence for his use of new techniques to remove brain and brain-stem tumors, previously regarded as inoperable. In sharp contrast, he barely made it through college, not realizing until his 10-year-old daughter was diagnosed that he had dyslexia. Subsequently, he became an outspoken champion of children, like himself, who had learning disabilities.
This year's winner of the Fred J. Epstein Youth Achievement Award, Zachary Milestone of Skillman, New Jersey, is a young man, age 17, who has also defied the odds. Despite his dyslexia and significant language problems, he excels in math, science and Mandarin. He has already completed a course on infectious diseases and some lab work on Alzheimer's research at Rutgers Medical School.
At age seven, he took up ice skating after spotting a boy "spinning." The new sport did not come easily for him. He spent years mastering his "edges" on the ice. Today, he ranks as the 2015 Pewter Medalist in Ice Dancing for the U.S. Figure Skating Association (USFSA).
Further, as a junior at Montgomery High School, Zachary has attained perfect AP and SAT II scores. Though he claims that he is "no stranger to failure on or off the ice," he was also recently named as one of ten members of the 2015 USFSA Scholastic Honors Team.
Five other students were honored during the awards ceremony.
Christopher Lancaster, a junior at Kenwood High School in Clarksville, Tennessee, was given a Special Recognition Award. He is an honor student, despite his struggles with dyslexia and dysgraphia. Not until last year did he learn to spell his full name. Highly motivated, he works hard especially for others. Last year, he received the 2014 Governor's Volunteer Star Award for his Eagle Project, the building of a one-mile bike trail for the Wounded Warrior Unit, Fort Campbell, Kentucky.
Emma Isabella Pawl, age 11, of Ashland, Massachusetts, won the Junior Achievement Award. She attends the Christa McAuliffe Charter School where she wrestles daily with dyslexia, dyscalculia (difficulty with numbers), apraxia of speech and ADHD (Attention Deficit Disorder). As a talented vocalist and actress, she refuses to let her learning disabilities define her.
Three students received Honorable Mention Awards.
Tim Bates of Ashville, North Carolina, is a junior at The Gow School in South Wales, New York. Despite his dyslexia, he has developed his passion for the theater and music. Since age three, he has performed on stage in plays and musicals. He has mentored with a conductor since age 13. In the summers, he conducts both pick-up choirs and professional musicians.
Megan Connolly of Stamford, Connecticut, began to conquer her troubles with dyslexia once she took to the ice where she "felt invincible." She has earned medals in a myriad of ice skating competitions, e.g., a gold medal at the North Atlantic Regional Championships. She is a straight-A student at the Harvey School in Katonah, New York, and will attend Syracuse University next fall.
Sean Zyvoloski of Sauk Rapids, Minnesota, has ADHD, dyslexia and dysgraphia. However, he is better known as a three-sport athlete – football, weightlifting and baseball. As a senior, he captains his football team at the Apollo High School in St. Cloud, Minnesota. He tutors younger kids and coaches at football camps. He helped organize the area's first library for Somalian immigrants.
About Smart Kids with Learning Disabilities, Inc.
Smart Kids with Learning Disabilities, Inc. is a Westport-based nonprofit organization dedicated to empowering the parents of children with learning disabilities (LD) and attention deficit disorders (ADHD) via its educational programs, award-winning website and blog, and free e-newsletter at http://www.SmartKidswithLD.org. The organization also educates the public about these children's gifts and talents. Connecticut Governor Dannel Malloy is an Honorary Board member and Henry Winkler, Golden Globe award-winning actor, director and author, serves as the organization's Honorary Chairman.
For more information, visit http://www.SmartKidswithLD.org.