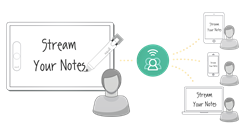 "...streaming whiteboard content in real time is a necessity in order to keep everyone in sync."
Belmont, CA (PRWEB) March 19, 2015
Equil Smartmarker is a solution for whiteboard users who brainstorm, diagram concepts, organize projects and facilitate meetings with local and dispersed teams. Designed for business users, and also ideal for education, Equil Smartmarker enhances traditional whiteboarding by allowing users to capture, edit, sync and stream content. By placing a dry erase marker, like those from Expo, into the technology-enabled sleeve, data is transmitted to the Equil Smartmarker sensor. Equil Smartmarker works on mounted and mobile whiteboards, walls painted with dry erase paint and glass – virtually any type of whiteboarding surface up to 16 feet (5 meters). In addition, Equil Smartmarker has 4GB of internal memory to store notes when not connected to a computer, smartphone or tablet via Bluetooth.
"We are excited to give customers another way to 'make every surface smart,'" said Brad Richter, Chief Design Officer at Luidia, Inc."We've had great success in the education market, but this is our first product aimed directly at business users who want to run more productive meetings. With the continual growth of remote work teams, streaming whiteboard content in real time is a necessity in order to keep everyone in sync."
Equil Smartmarker works with the Equil Note App and assures everything written on a whiteboard surface can be reviewed, modified and shared. Notes can also be streamed to remote participants, facilitating collaboration for business users and distance learning in educational settings. The character recognition feature gives users the ability to convert handwritten notes to digital text. Equil Note is integrated with cloud services such as Dropbox, Evernote, iCloud, works on Android, iOS, Mac and Windows and is available for free download at myequil.com/apps.
Equil Smartmarker is available for purchase through Luidia resellers and retail partners or directly at http://www.myequil.com.
About Luidia
Luidia Inc., originally founded in 2003, and reincorporated in 2013, has over 100 interactive technology and digital capture patents. Headquartered in Belmont, CA, Luidia creates eBeam and Equil product lines for B2B, B2C, education and OEM customers worldwide.