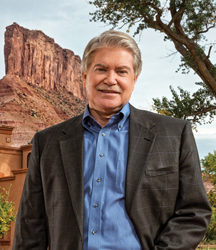 My dream of a content-on-demand service that uses advanced media to empower the enduring human desire to understand the Universe and the world around us is now a reality.
Silver Spring, MD (PRWEB) March 18, 2015
John Hendricks, the Founder of the Discovery Channel and former Chairman of Discovery Communications, announced the launch of his new, independent venture, CuriosityStream, the world's first ad-free subscription-video-on-demand (SVOD) service for consumers to watch premium factual programs anytime, anywhere. The service goes live at 6amET today and curious people across the U.S. with broadband connections can sign up to instantly watch choice content from hundreds of enriching and engaging shows.
CuriosityStream takes Hendricks's vision of accessible and curated factual programs to the social media generation with the latest technology and content focused on science, technology, civilization and the human spirit. The service is designed to enable viewers to choose their viewing experience, from a range of resolutions to custom search features that allow viewers to take virtual journeys through the topics of their choice.
"My dream of a content-on-demand service that uses advanced media to empower the enduring human desire to understand the Universe and the world around us is now a reality. CuriosityStream is the world's first ad-free, SVOD service that addresses our lifelong quest to learn, explore, and understand. Our aim is to provide the first and best on-demand video streaming destination that aggregates and curates the world's best factual content," said Hendricks.
For just $2.99 a month, CuriosityStream subscribers can access premium programming on internet-connected TVs, smartphones, tablets, set top boxes and additional devices. The service is currently priced to host and deliver three streaming resolution preferences: Standard Resolution ($2.99 per month), HD Resolution ($5.99 per month), and later this year we will offer 4K Resolution.
CuriosityStream is launching with hundreds of hours of original and acquired programming that aims to engage and enlighten knowledge seekers of all ages, with new titles being added weekly. Engaging short-form content, generally less than 8 minutes in length, will comprise a significant part of the curated CuriosityStream library.
CuriosityStream features original commissions, original series and specials and documentary content from the world's leading nonfiction producers, including the BBC, NHK, ZED, Terra Noa, and Flame Distribution. Additionally, CuriosityStream features exclusive access to segments and full interviews from more than 70 world experts profiling a broad range of subjects from evolution to rock stars, with 25 new interviews added each month. Initially launching in the U.S., CuriosityStream will be available worldwide over the next five years.
Sample content from the CuriosityStream library includes:
Destination Pluto This original 8-part series follows the last 8 months of a decade-long timeline from launch of the space probe in 2006 to up-to-the-minute coverage as the New Horizons science team deploys a series of high-tech cameras and instruments for its close encounter mission to Pluto in July 2015.
Chopra Love in Action This 20-part series features best-selling author Dr. Deepak Chopra as he interviews thought leaders, celebrities, and scientists about key topics related to the human spirit and the science of consciousness and well being. Guests include Goldie Hawn, 50 Cent and Adrian Grenier.
Cosmic Front This 15-part series tells the stories of the greatest astronomers, planetary scientists and cosmologists who have ingeniously discovered the secrets of the cosmos. Through scientific rigor (and sometimes dumb luck), they have unlocked the mysteries of dark matter and super-massive black holes. From the first stars in the universe and Hubble's stunning images of star nurseries to the design of the Apollo lunar rover and the Curiosity rover trekking across Mars today, this is the story behind how we know what we know about our universe.
Annihilation: Destruction of Europe's Jews
This new, 8-part documentary series surveys the catastrophic results of attempts to eradicate the Jewish population in Europe during the 20th century. On the 70th anniversary of the end of WWII and liberation of the Nazi concentration camps, this series asks a simple question about the Holocaust or Shoah: how could this happen? With hundreds of hours of new interviews, almost 400 hours of rarely seen archival footage and 6,000 still photographs from 30 countries, this landmark series features experts whose answers to the question are profound and insightful.
Earth: Power of the Planet
This landmark series tells the life story of our planet, how it works, and what makes it so special. Examining the great forces that shape the Earth - volcanoes, the ocean, the atmosphere and ice - the program explores their central roles in our planet's story. How do these forces affect the Earth's landscape, its climate, and its history? Extensive use of satellite imagery reveals new views of our planet, while time-lapse imagery brings the planet to life.
Norman Seeff's Sessions
This 60-part series features intimate interviews filmed during photographic sessions with famous recording artists, movie directors, writers and scientists. Celebrities include Will.i.am, Alicia Keyes, Bootsie and Catfish, Dr. John, Martin Scorsese, Ray Charles, Pancho Sanchez, Norman Mailer, Steve Squyers, Tina Turner, Merle Haggard, Herbie Hancock and Adam Deitch, to name a few. Renowned photographer, Norman Seeff, has photographed them all and captured the essence of the creative spirit in these free-flowing conversations.
Elizabeth Hendricks North, President of Curiosity Project LLC, commented: "We saw an opportunity to develop a deep content library that appeals to lifelong learners interested in the world around us. From exploring the science of consciousness to understanding the linguistic legacy of Shakespeare, our programming takes a deep dive into topics that matter."
Heading up the programming team for CuriosityStream is Steve Burns, an Emmy Award-winning documentary producer who has programmed content for some of the world's leading distributors of nonfiction media. Burns served most recently as the Executive Vice President for Global Content at National Geographic Channels worldwide and has worked as Executive Producer for WNET, Chief Science Editor at Discovery Networks, and General Manager of the Science Channel. Richard Sergay, a veteran, award-winning ABC News producer, serves as the interview host for Curiosity Studios and as a senior consultant for CuriosityStream's partnerships and acquisitions.
Peter North, CuriosityStream's Executive Vice President for Digital Media Operations, stated: "CuriosityStream has been designed as a customer-centric service that provides what viewers want: fast streaming, intuitive video selection, quality content, and no advertising."
The technology underlying CuriosityStream is made possible in collaboration with a number of leading digital companies, including Limelight Networks, VIPDesk and 3Q Digital. Limelight Networks is providing content hosting for CuriosityStream content, while VIPDesk is handling customer satisfaction and 3Q Digital is managing all digital marketing.