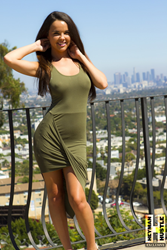 "Once you do the Hustle, you blow up big!"
West Hollywood, California (PRWEB) March 18, 2015
Following in the notable footsteps of Sasha Grey and Michelle Sinclair, "Girl Next Door" Adult Superstar Dillion Harper is breaking into the mainstream, as her very first super model photo shoot has been picked up exclusively on the first day it was made available. The entire shoot is now posted exclusively at http://www.heymanhustle.com/168927-dillon-harper.
Super model photographer Ary Dalton flew to West Hollywood to shoot Dillion on one of the most panoramic rooftops in SoCal, and the results are nothing short of spectacular.
"It was an amazing day shooting for Ary Dalton in Los Angeles; it was all outdoors and even though it was blazing hot outside it was easy to stay cool with great company and direction," says Harper. "This is a tremendous opportunity. Once you do the Hustle, you blow up big."
"At first, I didn't know what to expect," commented Ary Dalton, who has worked with everyone who's anyone in the past couple of years. "This is not a small leap. This is a huge step into the mainstream, and it requires a level of scrutiny few seasoned models can handle."
"A photo session designed for a super model is a stressful environment, no matter how years you've been in front of the camera," noted set designer Charlie Maison of the Hustle. "Dillion hit the sit, all smiles, and took over with her charm and her willingness to just be herself. No pretensions, no nerves, just a great attitude that came through in her collaboration with Ary!"
###