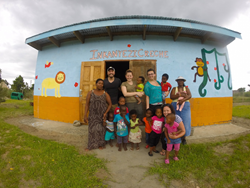 AC&M's support of my volunteer trip to South Africa demonstrates how our corporate values of compassion and culture come to life
Charlotte, N.C. (PRWEB) March 18, 2015
AC&M, one of the premier multicultural marketing firms in the United States, today announced the launch of its 3XP initiative to foster philanthropy and goodwill in Charlotte and beyond. 3XP – short for three times the philanthropy – combines AC&M's inaugural Nonprofit Giveback, Corporate Social Responsibility (CSR), and Volunteer Time Off (VTO) programs. Each project utilizes employee talents as the driving force for success with the common goal of providing a solid "corporate family" support system where employees act as change agents in their communities here at home and abroad.
"From providing employees time off to volunteer at soup kitchens or coach youth soccer games to supporting international philanthropic missions, we know that passion begets passion," says Jaime Cardenas, CEO, AC&M Group. "An employee who has a passion outside of work with their favorite charity brings the same passion into the office. By paying attention to outside interests, we have discovered what motivates our employees to uncover hidden talents."
"Along with boosting goodwill and serving community needs, our 3XP initiative aims to develop leadership skills and enhance our recruitment efforts of Millennials," says Pacino Mancillas, Partner & Director of Brand Integration, AC&M. "Research shows that VTO programs and a company's commitment to making a difference help increase employee productivity and loyalty."
According to Forbes, the value of capturing the attention of Millennials can't be overstated. These young professionals will become the majority in the U.S. workforce in 2015. By 2030, that number will jump to a staggering 75 percent. Attracting and retaining them will only become more important – and that means appealing to their philanthropic values. At AC&M, more than half of its employees are Millennials. AC&M's Intern Incubator Program, in which top young talent is identified, groomed during internships, and then given full-time employment, fuels this number.
AC&M's 3XP Components

Nonprofit Giveback Program – Through an online application, U.S. based nonprofits that promote diversity or reach people through sports can enter for a chance to receive pro-bono services from AC&M that includes a new website, redesigned logo, social media strategy, website editing lessons, and a full-scale marketing / PR plan based on the selected organization's needs. The Nonprofit Giveback Program will open later this spring at http://www.acmconnect.com.
Corporate Social Responsibility – AC&M's first ever CSR plan helps employees better serve the communities in which they live and work. Part and parcel to the plan is AC&M's support of volunteerism in which employees can donate their time and talents to a nonprofit. Employees highlight their experiences on the company blog and social media.
Volunteer Time Off – Employees can use up to three days (24 hours) per calendar year toward a 501c3 charitable / nonprofit organization of their choice, which is considered paid time off.
The Case for Volunteerism & Corporate Philanthropy (Sources – Forbes & Realized Worth)
Employee Satisfaction: 47% of people chose volunteer time as the most effective socially motivated tactic for increasing employee satisfaction.
Company Image: According to the recent Deloitte Volunteer Impact Survey, 88% of HR executives said corporate volunteerism portrays their company in a positive light.
Attracting Talent: According to Deloitte's Millennial Survey 2014, 61% of millennials (who make up majority of the workforce) reported that an employer's commitment to its community would play a role in their decision to accept or decline a job offer.
Employee Trip To South Africa As Example
Senior VP of PR, Brian Cockman, was the first employee to try out the new VTO program and used his three days as part of a two-week trip in South Africa (January 23- February 9). He volunteered with the organization African Impact where he worked with orphans living with HIV/AIDS, as well as Zulu community support groups. He also visited high schools to talk about HIV/AIDS prevention and sex education with teens. He took in-kind donations of soccer balls, shorts, and t-shirts for 60 orphan children, which he received from the Passback Program through the U.S. Soccer Foundation.
"AC&M's support of my volunteer trip to South Africa demonstrates how our corporate values of compassion and culture come to life," says Cockman. "The entire AC&M team truly made a difference in my life by helping me make a difference in the lives of others. Their support and connections helped me deliver sports equipment and medical supplies to orphans living in St. Lucia, South Africa. With nearly 90% of the population in St. Lucia living with HIV, many of the children grow up without parents who have passed away because of AIDS. AC&M's support was immeasurable and I am eternally grateful for their willingness to go the extra mile when it comes to helping those in need. I'm very lucky that the company I choose to work for shares my same values."
Learn more about AC&M's 3XP initiative on the agency's blog at http://blog.acmconnect.com/2015/03/acm-launching-3xp-initiative-to-promote-social-responsibility/
For more information on AC&M's corporate culture, please visit acmconnect.com, Facebook http://www.facebook.com/acmconnect, LinkedIn http://www.linkedin.com/company/ac&m-group, Instagram http://www.instagram.com/acmgroup and the company's blog at http://blog.acmconnect.com.
About AC&M: Founded in 2004, AC&M Group excels in using cultural insights to connect brands with their consumers. With expertise in Hispanic, soccer, and social media marketing, it is one of the premier multicultural marketing firms in the United States. AC&M clients include Sherwin-Williams, Family Dollar, National Gypsum, DeWalt and Soccer.com. For more information, visit http://www.acmconnect.com.