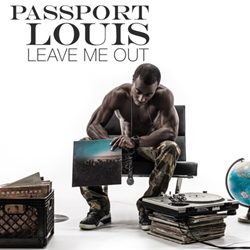 Peoria, IL (PRWEB) March 17, 2015
Coast 2 Coast Mixtapes presents the release of the "Leave Me Out" single by Passport Louis. This club banger, produced by Jean E Quest, is currently available to stream on the Coast 2 Coast Mixtapes website and available for purchase on Itunes.
Global Group Entertainment's Passport Louis is an extremely talented recording artist coming out of the mid west. He was raised in Peoria, IL in a very musical family that encouraged his love for music from a very young age. His older brother and current producer, Jean E. Quest, mentored him in his writing process and placed him on his internationally released project "Hustlers make G's" at the age of 13. Passport Louis is known for his infectious style and unique sound making creative music with an urban sound that contains artistically powerful lyrics. His personality and vibe are a direct reflection of his raw talent promising him both longevity and success in the entertainment industry.
Passport Louis has been hard at work developing his music library collaborating with a multitude of artists including Best Kept and the Pope. He has performed live alongside numerous national acts such as Twista, Trey Songs, Ludacris, Big Tymers, EPMD, Paul Wall, and Mike Jones just to name a few. He has recently appeared at the Peoria Civic Center (Peoria, IL), Heat Nightclub (Chicago, IL), and Apache Café (Atlanta, GA). In 2010 Passport Louis released "The Bailout" which was produced entirely by Jean E. Quest. In 2012 he released "Hits N My Sleep" which was also produced by Jean E Quest and hosted by DJ Whiteowl. The first single off of that project "Bobby" received heavy publicity on multiple blog sites and appeared as the video and song of the day on allhiphop.com. His forthcoming project 'Global Initiative" is scheduled to be released September 2014 and is like his previous releases produced by his brother. The project promises 12 original tracks and will feature some surprises for his following.
You can see/hear more from Passport Luis and Global Group Ent by viewing their YouTube channel Passport Louis, visiting them online at http://www.PassportLouis.com and by following him on twitter / instagram @PassportLouis. All media inquiries, bookings, drops, and feature inquiries should contact Global Group Ent at 309.648.2075 or by email at PassportLouis(at)gmail(dot)com
About Coast 2 Coast Mixtapes
Coast 2 Coast Mixtapes are the most widely distributed mixtapes in the world, with over 100 million downloads/plays generated by over 200 volumes officially hosted by major artists. Coast 2 Coast has a solid reach in the new music industry with a digital magazine, DJ coalition, industry tips blog, yearly convention, and more. Coast 2 Coast Mixtapes represents a unique opportunity for artists of all urban genres, from major to indie. For more information, visit http://www.coast2coastmixtapes.com.