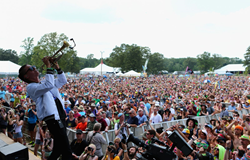 Find out why Tennessee is hailed as the Soundtrack of America, where to be a zoologist or speleologist during Spring Break, and how to float along in style.
Nashville, Tenn. (PRWEB) March 18, 2015
Warmer weather means more and more things to do in Tennessee. The great outdoors beckon with music festivals, outdoor adventure, and family travel that are the perfect choice for your next getaway. Find out why Tennessee is hailed as the Soundtrack of America, where to be a zoologist or speleologist during Spring Break, and how to float along in style. It's spring and summer fun that can only be Made in Tennessee.
Soundtrack of America
The award-winning Rivers & Spires Festival will bring great fun for all April 16-18 in Clarksville. The schedule is jammed with events like the car show, festival of nations, step show, Last Band Standing program, a children's parade, an exhibit of quilts from the Cumberland area, a sports zone, and so much more. Friday night's headliner is the popular country duo Love and Theft.
Rhythm N' Blooms April 10-12 happens along Jackson Avenue in downtown Knoxville with performances by The Decemberists, The Dirty Guv'nahs, Delta Spirit, Jill Andrews, Apache Relay, Alanna Royale, and many more. Knoxville is home to the 2015 Tennessee Civil War Sesquicentennial Signature Event April 30-May 1 as "Reconstruction Tennessee" is discussed through educational symposiums, a performance by the world-renowned Fisk Jubilee Singers, historic tours, Knoxville's Blue & Gray Reunion & Freedom Jubilee which will take place April 30-May 3, and much more.
Tennessee travelers will want to head to Memphis in May, the event where barbecue and music collide. From the World Championship Barbecue Cooking Contest May 14-16 where patrons can score samples of all types of barbecue to the International Salute to Poland May 4-9 that will host Polish food, entertainment, and music, the month-long festival is not to be missed. One of the biggest draws, though, is the Beale Street Music Festival May 1-3 as millions will flock to see Paramore, The Avett Brothers, The Flaming Lips, Cage the Elephant, Ed Sheeran, Lenny Kravitz, Wale, AWOLNATION, G-Eazy, Jenny Lewis, and many more.
Peace, love, and Bonnaroo. Spread the positivity at this famous music festival June 11-14 on 700 acres on a farm in Manchester, Tenn. The four days will be packed with back-to-back performances across more than 10 stages. Comedians and 150 performances by Billy Joel, DeadMau5, Florence + The Machine, Mumford & Sons, Kendrick Lamar, Bassnectar, Slayer, Hozier, My Morning Jacket, and a bunch more. The Silent Disco, The Bonnaroo Salon hosted by Garnier Fructis, Bonnaroo Poster Art Exhibit, and Bonnaroo Cinema will also take place.
Family Travel
It's time for some family fun with the annual Chattanooga Spring Break Safari that takes place through April 19 city-wide in Chattanooga. Explore the city as a human-abilities inventor at the Creative Discovery Museum; a zoologist at the Chattanooga Zoo; a sword fighter at Rock City Gardens; a speleologist at Ruby Falls and much more. Grab a phone or camera and document the adventure by getting a copy of the Chattanooga Spring Break Safari Guide at the 11 participating attractions or at the Chattanooga Visitors Center. Snap a selfie with the answers to share on Instagram, Facebook, or Twitter. Show all the pictures to the designated person at the attractions to get a prize.
The rest of East Tennessee offers various activities and attractions for family fun. Dollywood in Pigeon Forge celebrates its 30th year beginning March 21 at the Grand Opening. SunWatch and StarWatch have returned through April at Bays Mountain Park & Planetarium in Kingsport. SunWatch allows attendees to safely view the sun 3 p.m. every Saturday and Sunday near the dam; and, the public can enjoy the night sky during StarWatch at the observatories.
Adolescents and teens may find the newest exhibition at Discovery Park of America interesting. The Chamber is a new exhibit focusing on the executions and torture tactics from the 1400s during the Spanish Inquisition. The Breaking Wheel, The Rack, and The Brazen Bull which was invented during the 6th century B.C. in Greece are on display. A guillotine from the French Revolution period and contemporary torture items are also included in the exhibition.
Travel in Nature
Nothing says spring like cruising along the river, and in Tennessee there's always a boat ready to be boarded. Take a cruise with Memphis Riverboats which offers a 90-minute sightseeing cruise filled with historic commentary about the area and river life. Snacks and drinks are available on board. Have some music and barbecue with The Evening Dinner and Music cruise. As the sun sets, enjoy jazz, R&B, and blues music while floating along the Mississippi River.
Travelers can see Old Hickory Lake near Nashville from pontoons with Cumberland River Cruises. Boating tour season is typically March through November and is child-friendly. Some of the tours offered include the nature tour where boaters see scenic cliffs and creeks; sunset/night tour which includes the "Bat Cave Spectacular"; and the homes tour which goes by Tanya Tucker's and Barabara Mandrell's previously-owned homes among others.
Hop on the River Gorge Explorer from the Chattanooga Riverboat Pier and experience the Tennessee River Gorge for a two-hour adventure with wildlife viewing, local history told by a Tennessee Aquarium naturalist, and take in the scenery from the observation deck. The Tennessee River Gorge is made of more than 27,000 acres of land with 26 miles of it winding along the Tennessee River. It is often referred to as "Tennessee's Grand Canyon." Tickets for the River Gorge Explorer are $32 for adults $24.50 for children 3-12 years old, and $18 for 3-year-old and younger children.
# # #
Explore more spring and summer fun at tnvacation.com and join other Tennessee travelers by following "tnvacation" on Facebook, Twitter, Pinterest, Instagram and YouTube.