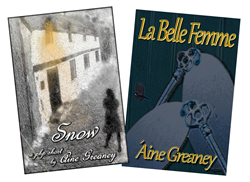 In just a few, finely crafted phrases, I quickly learn to care deeply about her complex, thoroughly Irish characters
(PRWEB) March 17, 2015
St. Paddy's Day fun and sense of connection with the traditions of Ireland don't have to end with the day's celebrations. Not when there are great Irish stories to read. Aine Greaney's short stories: "Snow" and "La Belle Femme" have the rhythm and magical language of a traditional Irish bard spinning tales of contemporary Ireland. "In just a few, finely crafted phrases, I quickly learn to care deeply about her complex, thoroughly Irish characters," said Cynthia Dadson of Pixel Hall Press.
Both stories are available as 99 cent PHP Shorts eBooks in all formats from Amazon, Barnes & Noble, iBooks and Kobo.

Set in a one-street small town in the Irish midlands, "Snow" is a stylish portrait of Dolores, a young expatriate Irish woman who is suddenly summoned home from America to take care of her estranged and sick father. In her childhood home, Dolores wrestles with the push and pull between her new American life and her past life in Ireland. As she nurses her father back to health, she is beset by memories and caught between family loyalties and her own desires.
Told from opposite points of view, La Belle Femme follows Moira and Alan, both middle-aged, and both married to other people, who have used their every-other-month business trips to conduct a long-term illicit affair. During one rainy summer, Moira's marriage implodes, while Alan and his wife suffer empty-nest syndrome. Unknown to the other, each decides to finally end their years' long tryst. But after all these years, neither has a clue how to end it truthfully.
*About Aine Greaney
An Irish native who now lives and writes on Boston's North Shore, Aine Greaney's most recent writing recognitions include a Pushcart nomination and selection as a "notable" in Best American Essays 2013. Other writing awards and shortlists include the Hennessy Award for New Irish Writing, the Fish Anthology, the Rubery International Book Award, the Frank O'Connor Award, the Irish News Short Story Award and Indie Lit 2011. Aine is the author of four books (two novels, a short story chapbook collection and a book on writing). Her fifth book "What Brought You Here?" (a memoir) is a work-in-progress. In addition, her personal essays and short stories have been published in consumer and literary publications such as Salon.com, "The Boston Globe Magazine," "Forbes," "The Daily Muse," "Generation Emigration," "The Irish Times," "Writers Digest" and "Books by Women." In addition to writing, she presents and teaches at various conferences, book clubs, arts organizations and schools.
*About Pixel Hall Press
Pixel Hall Press is a relatively new, old-fashioned small publishing house whose focus is on discovering literary gems and great stories that might otherwise be overlooked. Our mission is to publish books that energize the imagination and intrigue the mind, and to be a conduit between readers and provocative, stimulating, talented authors.
In this era of digital technology, Wall Street involvement and merger mania, many mainstream publishers seem to have lost sight of core principles and the purpose of publishing. At the other end of the spectrum is the veritable avalanche of self-published books that are notoriously uneven in quality. Small boutique imprints like Pixel Hall Press are reclaiming the heart and soul of publishing by reviving the idea that a publisher's core purpose is finding and nurturing great writers, and to provide readers with beautiful,
The PHP Shorts imprint of Pixel Hall Press specializes in publishing short stories as individual eBooks, in all popular formats.