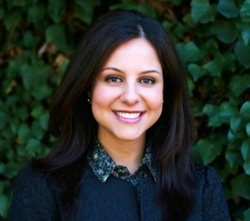 As our aging population continues to grow, it is critical that thought leaders come together to promote positive change in such an important industry. I am proud to be a part of the discussion on successful aging.
Palo Alto, CA (PRWEB) March 18, 2015
Home Care Assistance, a leading provider of in-home care for seniors, is proud to announce that Lily Sarafan, President of Home Care Assistance, will speak at the 2015 Aging in America Conference. The event, hosted by the American Society on Aging, will cover a multitude of topics ranging from challenges surrounding aging to improving quality of life for older adults. Sarafan will focus her presentation on promoting successful aging in seniors around the world by using big data and franchising to develop best practices for senior services in her presentation titled, "How Silicon Valley Uses Big Data and Franchises to Serve an Aging Public".
"I am thrilled to be a part of such an informative and innovative event that is leading change in how we serve older adults," said Lily Sarafan. "As our aging population continues to grow, it is critical that thought leaders come together to promote positive change in such an important industry. I am proud to be a part of the discussion on successful aging and look forward to learning myself from my fellow presenters at the event."
A pioneer of innovation in the home health care space, Sarafan advocates for the use of big data and Silicon Valley methods to innovate healthy aging and care practices. As the President of Home Care Assistance for over ten years, she strives to fulfill the company's mission to "change the way the world ages" and help seniors stay independent in their home for as long as possible. Sarafan is an accomplished entrepreneur and community leader as both the founder of a health tech startup and as a sitting board member for several consumer and digital health companies. She was chosen as one of Silicon Valley Biz Journal's Top 40 under 40 and has been featured in Forbes, Entrepreneur, Fox Business, and more.
The session "Technology Advances and Aging" will be held on Wednesday, March 25th, from 9:00 AM – 10:30 AM in the Crystal A Room at the Hyatt Regency Hotel in Chicago. The panel will discuss the following topics:

The impact that consumer electronics can have on healthy aging
How technology training programs may help older adults stay socially connected
How data supports the hypothesis that home healthcare is a fragmented industry
Program plans for seniors with mobile limitations in mind
Other presenters on the panel include Mark Francis (The Future of Aging Technology Is Fashion), Stephen Ewell (Independent Aging with Consumer Electronics), Thomas Kamber (Community Partnerships for Technology Adoption and Use) and Shelley Lyford (Maintaining Human Touch in a High-Tech World). For more information, please contact info(at)asaging(dot)org.
To learn more about Home Care Assistance, please visit http://www.HomeCareAssistance.com or call 1-866-454-8346.
ABOUT HOME CARE ASSISTANCE
Home Care Assistance is the leading provider of home care for seniors across the United States and Canada. Our mission is to change the way the world ages. We provide older adults with quality care that enables them to live happier, healthier lives at home. Our services are distinguished by the caliber of our caregivers, the responsiveness of our staff and our expertise in Live-In care. We embrace a positive, balanced approach to aging centered on the evolving needs of older adults. A 2015 Franchise500® and Inc. 5000 Company, Home Care Assistance has received numerous industry awards including Entrepreneur's Fastest-Growing Franchises and Franchise Business Review's Top 50. For more information about Home Care Assistance, our services and franchise opportunities, visit homecareassistance.com or franchise.homecareassistance.com.
ABOUT AMERICAN SOCIETY ON AGING
The American Society on Aging seeks to enhance the knowledge and skills of those who aim to improve the quality of life of older adults and their families. The goals of this organization are multi-faceted and cover aspects ranging from the physical, emotional, social, economic and spiritual aspects of successful aging. ASA offers nationally recognized online resources, professional education and outstanding publications, bringing a wealth of professionals together to provide insight and innovation to the world of aging.