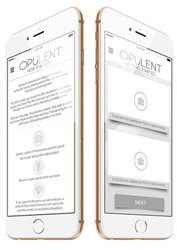 Feasterville, PA (PRWEB) March 19, 2015
Opulent Jewelers has just launched its new AppSnap mobile app to allow individuals to quickly and easily sell their ultra high-end jewelry pieces to its affluent customer base through consignment. The estate jewelry market (or "pre-loved" jewelry market) is a multi-million dollar industry that's growing by the year, but the biggest obstacle that most individuals face when they try to sell their old luxury jewelry is properly reaching their target audience of well-off buyers. AppSnap solves that problem by providing an easy-to-use platform where individual jewelry sellers can get their products prominently displayed in front of the eyes of Opulent Jewelers' affluent customers, who are exactly the kinds of people that actually purchase ultra high-end pieces.
AppSnap is easy to use, and it helpfully guides the user along every step in the process. After downloading the app, users simply open it up and submit a photograph and description of the luxury jewelry piece they wish to sell. Opulent Jewelers will then respond with a price quote on how much they'll pay the user if the piece sells, which the user can either accept or reject. If the quote is accepted, Opulent Jewelers will send the user a box with which to mail the piece to their Pennsylvania boutique, where they'll polish it, photograph it, and list it for sale on their website. Once the piece sells, the user will be paid the price they were originally quoted.
Opulent Jewelers is a popular jewelry shop that specializes in buying and selling pre-loved luxury jewelry pieces from the world's most prestigious brands, including Cartier, Chanel, Louis Vuitton, Van Cleef & Arpels, and others. Their brick-and-mortar store is located at 801 W Street Rd in beautiful Feasterville, PA.
Individuals who wish to learn more about AppSnap can visit https://www.OpulentJewelers.com/AppSnap for more details. The app is now available for download.