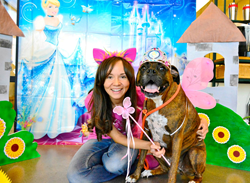 Jacksonville, Fl (PRWEB) March 18, 2015
Pet Paradise Resort participated in wacky themes to benefit 20 charities by donating $7,844 through its Wacky Wednesday philanthropy program.
Wacky Wednesday is a special day camp and bath promotion to support and raise awareness of local charities, many of which are animal rescue groups. For every bath purchased, Pet Paradise donates $1.00 back to the charity chosen by each resort location.
Wacky Wednesdays are held twice a year in January and February and again in September and October. Each Wednesday has a "wacky" theme during the promotion. This winter, furry companions embraced the wackiness of wacky hats, super heroes, wildcard, super bowl, tie-dye, Valentine's Day, Mardi Gras and their favorite color.
Since 2009, Pet Paradise has donated over $75,500 to more than 40 charities nationally through this philanthropy program.
The following charities were recipients of this winter's program: Amazing Aussies, Chloe's Paw, Family Addition Dog Rescue, Flamingo Gardens, Furry Friends Animal Rescue, Great Dane Rescue of Southeast Texas, The Hearing School of the Southwest, Jacksonville Humane Society, Jefferson Parish SPCA, Laskey's Lucky Ones and Volunteers, Last Hope Rescue, Lucky Labs Rescue, Mission K9 Rescue, PAWS for Irving Animals, Paws on Parole, Pit Sisters, Red Collar Rescue, Save a Furry Friend Animal Rescue Inc (SAFFARI), TEARS of Seminole County and Their Lives, Our Voices.
About Pet Paradise:
Headquartered in Jacksonville, Fla. with more than 400 employees, Pet Paradise was formed in 2002 and currently has 20 facilities in operation of which nine are located throughout Florida; three are in Houston, three in the north Dallas area, two in North Carolina, and one each in New Orleans, Atlanta and Phoenix. At Pet Paradise our mission is to create a safe, clean and fun environment for our four-legged guests. The Pet Paradise facilities include spacious dog and cat boarding suites as well as day camp and grooming services. For more information about each resort, visit http://www.petparadiseresort.com or visit our social media sites: Youtube, Twitter, Facebook and Pinterest.