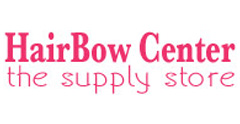 Fort Scott, KS (PRWEB) March 18, 2015
HairBow Center invites friends and fans to check out their new and improved online blog.
The new blog is user friendly and boasts new features including:

Social Share options
A mobile friendly interface
Features to allow users to be instantly notified of new content
Readers and hair bow fans alike will be glad to learn that the new blog features tutorials and general crafty how-to articles to help the beginner get started in hair bow crafting or refuel the fire of old pros! Learn how to make a chevron patterned headband or a fancy bow with simple to follow how-to guides. There are also tips for general craftiness around the home.
Users will be able to build a visual idea board from the web store by linking products to blog posts explaining how they're made. This new feature will streamline the creative process and save users time as they shop.
The blog now features a total of six contributors. This means that styles and tutorials will always be fresh and multi-dimensional as there will be several different styles and personalities contributing to the blog.
In addition to all the new features and how-to tutorials, readers of the blog are eligible for some fantastic hair bow giveaways. HairBow Center encourages readers to check the blog frequently to ensure they don't miss out on giveaways for free bows and supplies. The new blog can be found at http://www.hairbowcenter.com/blog.
About HairBow Center
HairBow Center has provided online shoppers with an extensive selection of colorful ribbons and other hair bow accessories since 2008, when founder Kristi Banwart created the company and started designing ribbons based on her knowledge of interior, graphic, and architectural design. HairBow Center built a reputation for creating unique products and focusing on customer service, and by 2010, the company had expanded from operating out of one bedroom to using a 6,500 square foot facility; today, HairBow Center offers a full selection of high-quality hair bow supplies, including embellishments, hardware, tulle, and various ribbons, from grosgrain to satin. To learn more about HairBow Center and its products, visit http://www.hairbowcenter.com.