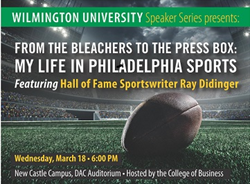 New Castle, Delaware (PRWEB) March 18, 2015
The media is invited as Emmy Award-winning sportswriter and author Ray Didinger talks from behind the scenes of Philadelphia sports in, "From the Bleachers to the Press Box: My Life in Philadelphia Sports."
Pre-lecture media interviews from 4:00 to 5:00 p.m.
Contact: Laurie Bick
Director, Public Relations
Cell: 302-650-0900
Email: laurie.e.bick@wilmu.edu
Date: March 18
Time: 6:00 p.m.
Address: Doberstein Admissions Center Auditorium
Wilmington University
320 N. DuPont Highway, New Castle, DE 19720
Didinger appears as part of the Wilmington University Speaker Series, hosted by the Wilmington University College of Business.