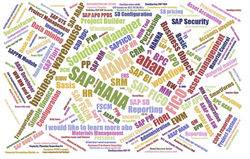 Online and eLearning is the way of the future.
New York, NY (PRWEB) March 18, 2015
Award-winning SAP training and eLearning innovator, Michael Management Corporation, today released the striking results from its annual SAP training survey, for which an unprecedented 1,430 SAP professionals participated.
As the largest independent training survey for SAP professionals, the findings are a treasure trove of insights regarding the current state and trends of the SAP training industry. It's one of the only comprehensive annual research reports of its kind. Creating a comprehensive picture of SAP training, this survey is an invaluable report and research to anyone working in SAP.
"We continue to see a movement away from traditional classroom training in SAP towards eLearning and other online options. The results from this year's survey support what we've been seeing again and again over the past few years. Online and eLearning is the way of the future," said Thomas Michael, CEO of Michael Management.
The survey results are available now as a free download on Michael Management's website. It features summations and insights for each survey question, accompanied by analytic graphs and charts. Also included is exclusive commentary from independent analyst and co-founder of Diginomica, Jon Reed.
"Most surveys I analyze have under 500 respondents, which can raise questions about how much we can read into the data. This year, Michael Management has a record 1,430 participants. It allows you to make bigger and bolder conclusions," said Reed.
Download the 2015 SAP training survey here:
http://www.michaelmanagement.com/sap-training-survey.asp
Michael Management Corporation provides innovative, accessible and engaging SAP training based on hands-on simulations as opposed to the traditional static PowerPoint approach. With over 250 corporate clients, 7,000+ students and over 30,000 online training sessions delivered, Michael Management Corporation is a leader in SAP training.
About Michael Management Corporation
Michael Management Corporation is a leading provider of SAP training, SAP eLearning and SAP access. The company provides an unmatched level of SAP product expertise. Michael Management Corporation's award-winning online SAP training courses are used by many Fortune 500 companies around the world to train their users on SAP know-how.
Michael Management Corporation (MMC), the MMC Logo and the MMC Swoosh are registered or unregistered trade and/or service marks of Michael Management Corp. and are protected by US and international copyright laws. All other names, brands, logos, etc. are registered trade or service marks of their respective owners. MMC is not affiliated with SAP AG.