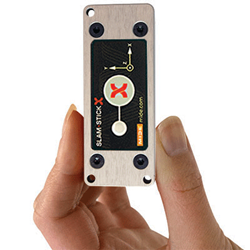 We've introduced this Aluminum version in direct response to an increasing demand from our existing customers looking for an even more accurate, durable and versatile shock and vibration data logger
Boston, MA (PRWEB) March 18, 2015
As the need for fast accurate data increases and permeates all areas of the engineering and business world, Midé Technology has announced it has responded to customer demand for even greater accuracy by introducing an aluminum version of its popular Slam Stick X™ Shock and Vibration Data Logger.
Aluminum is over one thousand times stiffer than the polycarbonate material in the current version of the Slam Stick X. Technically this new enclosure is Aluminum 7075T6 with an anodized coating - making it a premium product in the Slam Stick X™ suite of shock and vibration data loggers. Midé's Product Manager for the Slam Stick X, Stephen Hanly, stated; "We've introduced this Aluminum version in direct response to an increasing demand from our existing customers looking for an even more accurate, durable and versatile shock and vibration data logger, while still maintaining all the benefits of the current Polycarbonate version."
Steve Hanly, added; "The aluminum Slam Stick X is recommended for shock testing, high frequency vibration testing, and applications where accuracy is paramount and semi-permanent mounting, for instance, epoxy or bolting is available. Apart from that everything is exactly the same as the polycarbonate version. Both are EMI qualified. A user can still set repeating or non-repeating triggers for time, temperature or air pressure/altitude, as well as configure the recording duration following a trigger event. On that note, we've continued developing our Slam Stick Lab software, and recently expanded its capacity to split large .IDE files and convert them directly to a MATLAB® compatible format – which has pleased many of our customers."
With monthly sales increasing since the Slam Stick X was introduced last August, we asked why the Slam Stick X was so popular? Chris Ludlow, Midé's VP of Engineering responded: "One of Mide's core business goals is to remain flexible and responsive to our customers' needs. It became apparent very early that our customers liked the many differentiating features of this data logger. They like how easy it is to use, that it can sample at up to 20 kHz per channel, that it comes in three ranges – the ±25g, ±100g, and ±500g; plus the fact that it can also record temperature and pressure. The fact that is a robust and reliable product helps, but I think a driving factor for its success is the customer support we provide, and our ability to listen and respond to our customers' needs. That is why we have introduced this Aluminum version of the Slam Stick X."
Mide Technology's current Slam Stick X Aluminum customers include Lockheed Martin and others.
About Midé Technology: Midé Technology is an engineering company that develops, produces, and markets smart technology products and materials - primarily for aerospace, automotive, marine, research, and manufacturing industries.
####