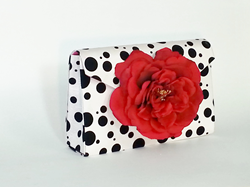 I wanted to make it easier for buyers all over the country to see our fabulous bags and place hassle-free orders.
(PRWEB) March 19, 2015
Luxury handbag designer, Pink Tulips, LLC has announced that it now offers wholesale order capability online. This means that boutiques and shops may now place wholesale orders for Pink Tulips handbags via the website, http://www.pinktulips.biz. It's all part of the company's campaign to broaden its reach to a wider audience.
Designer and founder Annette Cook says she's happy about the change.
"Pink Tulips bags have done very well in East Coast boutiques. One of my favorite accounts is an upscale clothing shop in a quaint New England town, who advertised Pink Tulips bags with this phrase: 'Come see the hottest new accessory people on the shoreline are talking about.' I wanted to make it easier for buyers all over the country to see our fabulous bags and place hassle-free orders."
Cook also says the capability to place wholesale orders online is a recent addition to the website to simplify the order process for buyers.
To celebrate the updated website, Cook says wholesale buyers will receive 55% off retail pricing by using the discount code WHOLESALE at checkout. The minimum purchase for the order must be $250 or more. The wholesale buyer must have a brick-and-mortar store front and must supply a copy of a sales tax certificate with the first order. Wholesale orders may also be placed over the phone by calling Pink Tulips at 860-227-2712.
Or course, Pink Tulips will continue to cater to individual shoppers as well. By visiting Pink Tulips' website shoppers may browse a range of fashion-forward handbags, clutches, totes and more. The items feature classic silhouettes as well as chic color combinations.
Pink Tulips was founded with the idea that each outfit deserves the touch of whimsy provided by a truly stylish handbag. Cook's creations are not simply beautiful and functional. Every satchel, tote, and clutch comes with a story and its own floral name.
About Pink Tulips, LLC:
Founded by Annette Cook, Pink Tulips, LLC is a luxury handbag line for the modern woman who "lives vicariously" and recognizes exceptional quality, style and craftsmanship. Cook launched the business in 2010, fueled with the entrepreneurial spirit of her great-grandfather, Joseph Sachs, a prolific inventor who patented the pull down fire alarm and the fuse. Using the skills she had mastered in floral design, sewing and bootstrapping in addition to the help of East Coast boutiques, Pink Tulips caught the attention of kitschy fashion-forward retailer Urban Outfitters in 2012. For more information about Pink Tulips and to browse the latest collection, visit http://www.pinktulips.biz.