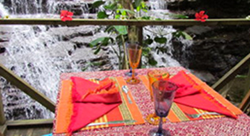 (PRWEB) March 23, 2015
Waterfall Villas Wellness Retreat is located in the Baru Rainforest of Costa Rica's South Pacific region. If interested in a good travel deal this month, enjoy Waterfall Villas' Easter Week Special, including 7 nights at this spectacular resort. Join for adventure, romance, detox, yoga and waterfalls during the most significant and celebrated holiday weeks in Costa Rica - Semana Santa, Costa Rica's momentous Easter Week.
The Easter Week Special runs all month long in April at the Waterfall Villas Wellness Retreat, and includes accommodations for two in a suite with a balcony overlooking one of the most romantic waterfalls in Costa Rica. This Special offer also includes daily breakfast, gourmet dinners, daily maid service, a horseback ride to Nauyaca falls, and more, for only $1,599.00. This is an excellent value for those visitors who are new to Costa Rica and want the fullest experience possible. You will also be able to enjoy many other amenities that Waterfall Villas offers, such as rejuvenating spa services, or practicing yoga in Costa Rica on a shala tucked away in the rainforest. Guests can also cleanse the body, mind, and spirit with a detox in Costa Rica and begin a journey toward better health.
Waterfall Villas' Easter Week holiday special also allows families to enjoy and save at this highly rated resort. Visitors can customize their stay to suit a larger party, and still receive Easter Week Special pricing. For parties of up to four people, the Exclusive Holiday price for 7 nights is just $3,399.00, including a stay in the luxurious Dragonfly Villa, a 2 bedroom, 2 bath accommodation with a large balcony overlooking the top of the falls, while partaking in all of the features mentioned in the Easter Week Special package for two.
Easter Week Costa Rica: Now is the time to discover all of what Costa Rica has to offer at Waterfall Villas.
Waterfall Villas is offering special discounts on many other packages throughout April, including their honeymoon in Costa Rica package, where couples can celebrate in the lap of luxury. They also offer discounts on the Vegan/Raw food adventure package, where guests enjoy a healthful gourmet journey into Costa Rica's freshest organic produce, guided by their experienced Raw/Vegan chef. Reach out to Waterfall Villas to inquire about details on special discounts for other packages at: (506) 2-787-4137.
Whether searching for a deal on a romantic getaway in Costa Rica, a powerful detox in Costa Rica to reset one's life, adventure and yoga over Costa Rican waterfalls, or to indulge in their exceptional spa services, Waterfall Villas has it all for every type of getaway!
Visit today: http://www.waterfallvillas.com to explore the packages offered in detail at Waterfall Villas, from nature lovers and adventure seekers, to a private romantic getaway in Costa Rica, or for those who want to celebrate their union with a magnificent honeymoon in Costa Rica - Waterfall Villas has it all for guests to discover, with valuable deals all April long for visitors to enjoy during the celebration of Semana Santa - Costa Rica's Festive Easter Week!