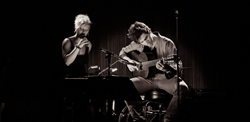 Los Angeles, CA (PRWEB) March 18, 2015
Downtown Los Angeles can start the day off right with Acoustic Caffeine, a free monthly music series presented by Arts Brookfield that is the perfect musical buzz to complement a morning "cup of joe." The series debuted this past February for tenants and visitors to Gas Company Tower and will continue through the end of the year. Audiences can expect to hear a variety of musical styles, all within the acoustic genre, including the upcoming violin and guitar duo of Hwi-Eun Kim and Cameron O'Connor who will perform together on April 1, and Slovenian singer Katja Koren and guitarist Mak Grgic on May 6, who combine classical jazz tunes mixed with funky acoustics.
Acoustic Caffeine kicked off in February with the GK3 Group and their compilation of eclectic jazz tunes, followed by singer-songwriter Josh Bovill in March. The series occurs the first Wednesday of every month at the majestic Gas Company Tower, one of the tallest skyscrapers in Los Angeles. Located in the prestigious Bunker Hill District, the Gas Company Tower is an award-winning 50-story Class A architectural landmark in the Los Angeles skyline. The building serves as the headquarters for the Southern California Gas Company and features 1.4 million square feet of office space, the highest-quality institutional finishes, and the most efficient floor plan in the market.
Arts Brookfield is a leading presenter of innovative arts programming in downtown Los Angeles, with its signature events including the FIGat7th Downtown Festival, Sounds of LA, and Acoustic Caffeine. Each year, Angelenos and tenants of Brookfield's properties have come to expect the first-in-class events that Arts Brookfield presents; which include free concerts, art installations and exhibitions, movie screenings, and more. Acoustic Caffeine follows a long line of top-quality events that Arts Brookfield continues to produce year-round across its global footprint.
To learn more about Acoustic Caffeine and other Arts Brookfield performances and events, visit http://www.ArtsBrookfield.com/AcousticCaffeine.
About Arts Brookfield
Arts Brookfield invigorates public spaces through the presentation of free cultural experiences in Brookfield's premier buildings around the world, located in the vibrant downtowns of New York, Los Angeles, Houston, Denver in the U.S., Toronto in Canada, and Sydney, Perth and Melbourne in Australia. By commissioning, producing, and presenting world-class works of art, Arts Brookfield supports creativity and innovation in the fields of music, dance, theater, film, and visual art. Visit http://www.ArtsBrookfield.com for a complete schedule of events.