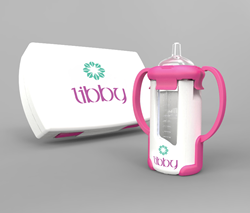 Florida, Miami (PRWEB) March 19, 2015
Libby, a compact baby feeding kit (Patent Pending), is launching a Kickstarter campaign to revolutionize baby feeding the way disposable diapers have changed lives of millions of families around the world, without harming the environment.
Libby eliminates the need to wash, sterilize, dry and replace baby bottles. It's the world's first collapsible feeding kit for modern moms. Libby is the first bottle which makes use of biodegradable bags that help prevent baby's gas accumulation (colic) while being environment friendly.
Linda Rozenbaum, a mother of three and a grandmother of six, has used her experience as a parent and founder of a 25-year old childcare center to design Libby feeding kit.
The warm, damp interior within babies' bottles is a prime environment for bacteria to grow. Washing the bottles in a sink or in boiling water is not enough to kill the germs. The same time, recent research has discovered that even BPA-free plastic products, when being exposed to heat from a dishwasher or microwave, release estrogenic chemicals dangerous for infants.
Using Libby solves these problems. When the time comes, a parent or a caregiver inserts a bag and a nipple in the bottle, adds water and powder, shakes the bottle, and feeds the child. Then, removes the bag and the nipple and throws them into a recycling bin, folds the bottle and places it in a compact bag.
The dispenser allows parents to prepare a serving of food in advance and save it in the disposable bag, utilizing careful planning which saves time. The bags prevent gas from entering the baby's digestive system, helping to avoid unpleasant feelings and cries.
Libby's pack includes a collapsible baby bottle and a formula dispenser with disposable bags and nipples. For those who prefer to employ reusable nipples, Libby has reusable nipple and there is an adapter that enables parents to insert any standard nipples in the bottle. It is compact, simple to use, environmentally friendly, saves parents time and money and helps babies avoid colic.
The Kickstarter campaign https://www.kickstarter.com/projects/1370768009/compact-collapsible-baby-feeding-kit-for-todays-pa aims to raise $35,000 to bring the product to market. Parents and caregivers can use this limited time promotion to pre-order the kit with the bottle, 200 disposable bags, 2 reusable and disposable nipples for $15.
Made for modern, on-the-go parents, the new product is more efficient, keeps both babies and parents calm and healthy and saves precious time.
To learn more about the Kickstarter campaign, visit the project's page: https://www.kickstarter.com/projects/1370768009/compact-collapsible-baby-feeding-kit-for-todays-pa
The company's website: http://www.libby-li.com
Contact Linda by e-mail: libby(at)libby-li(dot)com
The company's address: BROWARD, FLORIDA