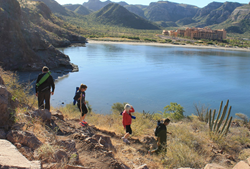 The Wellness Week Retreat at Villa del Palmar at the Islands of Loreto embodies an organic healing process for the mind, body and soul. - Claudine Riemer, director of the resort's Sabila Spa and Wellness Center
Islands of Loreto, Baja California Sur, Mexico (PRWEB) March 18, 2015
Villa del Palmar at the Islands of Loreto, the newest member of Villa Group Resorts and Baja's first million star resort, is helping guests disconnect to reconnect by offering its third Wellness Week Retreat focused on yoga, mindfulness, pranayama (breath work) and meditation for health and stress reduction, led by wellness expert Michelle Collins.
Slated for May 18 to 24, the rejuvenating seven-day retreat is an ideal way to rest and restore, while reveling in yoga and meditation at the perfect location that offers a mix of tranquility, untouched beauty and boundless opportunities to interact with nature.
"At Sabila Spa, we encourage guests to nurture harmony with spirit, the environment and with one another," said Claudine Riemer, director of the resort's Sabila Spa and Wellness Center. "The Wellness Week Retreat at Villa del Palmar at the Islands of Loreto embodies an organic healing process for the mind, body and soul."
Guests will kick off their weeklong focus on wellness with a special hand washing ritual to signify washing away their stresses, accompanied by a seated shiatsu massage.
The retreat offers a series of morning glory nature walks, allowing guests to experience scenic views of the Sierra de la Giganta mountain range and the indigo waters of the Sea of Cortez, as well as desert yoga and aqua stretches to help restore balance and focus. Ocean meditation sessions also help guests tune-in to their physical, emotional and spiritual levels.
After a day of yoga therapy and stress reduction led by Collins, who is a certified yoga instructor, Wellness Coach and Reiki Master, retreat participants can indulge in spa treatments like the Chocolate Delight massage or De-Stress facial, or outdoor activities that include exploring the surrounding untouched islands, scuba diving alongside dolphins, clear-bottom kayaking or paddle boarding.
The retreat includes hotel accommodations in a deluxe studio room, 8 days of yoga and meditation classes, full body massages, one mini facial, a body scrub treatment, unlimited access to Sabila Spa's wet areas that include hot, warm and cold Jacuzzis, eucalyptus steam room, dry sauna and fresh Aloe Vera tubs, daily fitness classes, and more, starting at only $239 per night per person based on double occupancy. Special healthy menus, including Juice Bar, gluten free and vegetarian choices are available at all three of the resort's restaurants.
Additional Wellness Week retreats are slated to focus on health, ecotourism, wellness talks, personal training, life coaching, and more.
For resort reservations or additional information on the Wellness Resolution Package, please contact the resort at reservaciones.vdpl(at)vgloreto(dot)com or call 800.790.4187. To learn more about Villa del Palmar, visit http://www.villadelpalmarloreto.com.
About Villa del Palmar at the Islands of Loreto: Baja's First Million Star Resort
Villa del Palmar at The Islands of Loreto is a luxury destination resort on the Sea of Cortez, off the eastern coast of the Baja peninsula overlooking Danzante Island (one of five in the region). It features 181 new, spacious, beautifully appointed Deluxe Ocean View, one, two and three bedroom Suites with balcony or terrace, stunning ocean views, mountain views, three restaurants offering gourmet dining, an attentive English-speaking staff, five swimming pools, a 39,000 square-foot Sabila Spa and Wellness Center, two tennis courts, beautiful beaches, a private beachfront Danzante Bungalow villa for glamping and a mild and warm climate year-round. The 7,400-yard Rees Jones-designed Danzante Bay golf course opening October 2015 will offer a challenging, yet friendly course that works with the natural beauty and serenity of the surrounding environment.
Guests can enjoy PADI-certified SCUBA diving lessons and snorkeling tours in the protected indigo waters that explorer Jacques Cousteau once dubbed the "Aquarium of the World." Outdoor adventurers can also experience tours of the nearby Coronado, Danzante and Del Carmen Islands atop an inflatable APEX boat, as well as swimming, world-class fishing aboard the "Mad Dash" tournament boat, paddle boarding, kayaking, whale watching and mountain biking. With complimentary shuttle service, guests can explore the historic town at the Islands of Loreto and visit the 1697 mission that made the town famous. The area is also known for its wildlife, including the 900 species of fish off the coast and in an area that has been declared a World Heritage Site. Hotel perks include a spa and fitness center, massages, salsa dance lessons and movie nights for children. The New York Times lists Loreto in its Top Ten Places to go in 2011. The travel article featuring The Islands of Loreto, Baja California South, Mexico ranked first among readers. Travelers can take a short flight from LAX on Alaska Airlines to the Islands of Loreto. With a new service beginning on February 14, 2015, travelers can also fly to the Islands of Loreto from Calgary, Canada aboard WestJet, Canada's most-preferred airline.
About Michelle Collins
Michelle Collins is a wellness expert with years of experience teaching yoga, mindfulness, pranayama (breath work) and meditation for health and stress reduction. She has a 200-hour yoga teacher certification through Yogafit USA and she is an AFAA certified group fitness instructor and personal trainer. She is a certified Wellness Coach through Mayo Clinic and is a 500 hour yoga therapy specialist through Daya Foundation, with a focus on stress reduction, physical, mental, emotional and spiritual health and well being. Collins is also an USUI certified Reiki Master. Collins uses all of her skills with clients to improve overall health and wellbeing, emphasizing long term change, wholeness and seeking our best selves. Collins loves to share her knowledge of Aryuveda (ancient healthful living guide) and Chakras (energy centers in the body) and the mind, body, spirit connection based on ancient yogic philosophies and teachings.