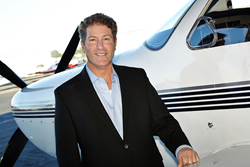 Harrison Ford's accident was not a total loss to general aviation
San Diego, California (PRWEB) March 19, 2015
Through emergency procedure training, proper planning, self care, and maintenance pilots can fly more safely despite engine failures and other technical glitches. DeLaurentis believes this so much that he has flown solo across the Bering Sea to Russia, solo across the Atlantic Ocean to Europe and will embark on a solo 25 country trip around the world starting in May that will last three months.
Private pilots and individuals should not focus on the bad news reported in the media after the recent crash with actor Harrison Ford, which was announced in a video and article earlier this month (March 5th) on TMZ, who made a calculated and safe landing with no injuries to others or property damage. Flying Thru Life, DeLaurentis's vision, is creating greater awareness about flight safety in a recent commentary where he explains to his readers how the accident in California can be a learning lesson instead.
"Harrison Ford's accident was not a total loss to general aviation," said DeLaurentis, who offers wisdom and advice for pilots and business owners. "This flying icon teaches us the importance of training first and foremost. It shows us that plane engines do fail and we must be prepared for this every time we step into an aircraft."
"Anyone trying to get their private pilot's license must demonstrate during their check ride that they can meet the standards for identifying a stall and recovering from various types of stalls," said Katie Pribyl, Vice President of Communications at AOPA, in an article from the AOPA website. Pribyl added that this is standard procedure. "This is such an important part of initial pilot training that to suggest anything different is wholly inaccurate."
Robert DeLaurentis will release his book, Flying Thru Life, after his return from his solo trip, circumnavigating the world. He is a sought after speaker, pilot, and entrepreneur who brings encouragement and wisdom through his writings and talks. Flying Thru Life has quickly become a premier resource for private pilots and businesses and is recommended by clients at MMOPA, AirVentures, MOAA, and Big Bear Airport Pilots Association.
For more information on Robert DeLaurentis and to book a speaking engagement, please contact Robert at FlyingThruLife.com for more information.