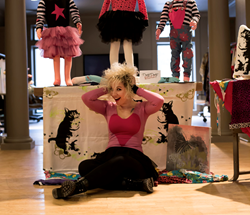 Philadelphia, PA (PRWEB) March 18, 2015
Alex Stadler is an artist and designer who translates his whimsical graphics into upscale accessories, clothing and home decor. As a textile designer, Alex has created work for and collaborated with Comme des Garçons, Jack Lenor Larsen, Nina Campbell LTD, Todd Oldham, John Bartlett, Elizabeth Dow and babyGap. His characters Kevin the Babysitting Bunny, and Willie, the diva pup with witty commentary on fashion, are immortalized in scarves, jewelry and clothing items. Alex designed a successful collection luxury merino wool scarves based on his abstract painting and recently expanded to rugs, working with Langhorne Carpet Company, the longest continuously operating Wilton carpet mill in the US. The Stadler-Kahn brand finds its home in the eponymous store in Philadelphia where Alex offers unique gifts and humorous anecdotes with purchases.
Machele Nettles puts her background in industrial design and her inherent creativity to use in her growing collection under the Talk Design Studio moniker. She recycles components from optical instruments into necklaces and earrings that dramatically react to light – refracting light into brilliant colors, or absorbing light to create a glow of color in her pieces. She takes the unusual – a mushroom with a unique shape – and creates quirky, high end home wares that provoke conversation. An eye chart becomes a room divider to both block and challenge inquisitive eyes, and common hardware items are refashioned into posh bookcases.
The childrenswear collection, Pretty Pretty Rebel, made an explosive entrance into the children's wear market. Designer Leah Delfiner creates an American made children's wear clothing brand inspired by rock and roll music, and featuring bright colors, and wild imagination. The brand's mission is to bring fun and functional clothing to young girls ages 4-10 who are sassy, wild children who love glitter, guitars and who live loud fun lives. The collection is made from high quality fabrics that are easy to maintain with fun and funky prints giving girls the unique and exciting wearing experience of a budding rock star.
Fabric Horse is a vegan, sustainable workwear accessory brand designed by Carrie Collins. The utility belts, tote bags, backpacks, and the original 'Lock Holster' are made from materials chosen with sustainability in mind, from junkyard salvaged seat belts to recycled yoga mats. Born from the needs of the cyclist community, over the past decade the products have proven valuable to countless professions and lifestyles for work, travel, and the everyday. Fabric Horse maintains a standard of quality that ensures the products are built to last, while making these work horse accessories fashionable.
Organizing this imaginative and inventive group of Philadelphia exhibitors at Moda 360 is Moda 360 team member, Karen Randal, CEO of Manufacturing Reimagined, a company developed from initiatives during her tenure as Director of Business Attraction and Retention for the City of Philadelphia and Director of Sustainable Investment. Drawing upon her background in art and architecture, Karen challenged local manufacturers struggling to grow to reimagine their equipment and capabilities and expand their product categories: A hat factory now produces felt bowls for a local homewares company. Karen worked closely with local manufacturers and artisans to help these businesses survive and thrive against a growing corporate presence, and guided many small businesses to success and expansion. Karen will be a featured speaker at Moda 360, discussing the resurgence of local manufacturing and the maker movement, and her work to inspire and encourage collaboration between artists, designers and factories to reuse, reinvent and reimagine their business model.
About Moda 360 - Moda 360 is a high fashion and lifestyle event for international designers, artists and filmmakers to exhibit their work across industries to reach a broad audience. This ground-breaking platform combines fashion, art, design, music and video for a unique presentation of creative work, offering a new perspective on the different disciplines, and giving participants an editorial presentation of their work. Moda 360 offers press and media compelling visuals for features, editorials, online and print media, and allows buyers and industry professionals to discover new collections of art, design and fashion.
About Bel Esprit - The Bel Esprit Showroom showcases international designers of ethical fashion, and the sister showroom, Showroom International, presents the collections of international independent designers. The showrooms offer 30 years of industry experience identifying and assisting the needs of both designers and retailers to facilitate a strong business relationship, and partner with international fashion industry organizations and events to give independent designers maximum exposure. Bel Esprit promotes ethical principles through education to designers, retailers and consumers, and, through a number of global initiatives, works to create and develop more ethical resources for the fashion industry. Learn more at http://www.BelEsprit.net
About the New Mart - The New Mart Building, a registered Los Angeles historical landmark located in the center of Downtown LA's fashion district, is home to 100+ showrooms representing hundreds of top lines. With both high profile and cutting edge showrooms – The New Mart is the most sought after venue for wholesale fashion buyers from around the world. Learn more at http://www.newmart.net
About bel essence - Bel Essence is a natural skin care collection based on a simple idea: give skin the nutrition it needs to heal, regenerate and rejuvenate itself. Bel Essence combines natural and organic oils that are the richest sources of vitamins, antioxidants, omega 3's and fatty acids, the essential components for healthy, youthful skin. Bel Essence gives skin what nature intended and selects and combines oils with beneficial properties to maximize results without harmful chemicals and colorings. Natural oils, known for their skin health benefits, are combined to treat and nourish skin giving both instant improvement and long term transformation. Learn more at http://www.belessence.com.