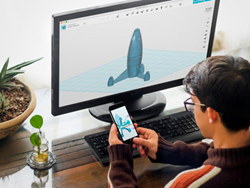 San DIego, CA (PRWEB) March 18, 2015
i3D Creatives, a 3D Design education company, announced today that is has launched an online platform that teaches kids 3D Design for 3D Printing. The platform aims to equip the next generation with the capabilities to turn their ideas into reality through this exploding new technology. The platform's interactive curriculum walks the students through downloading and navigating through a free 3D Design software, 123D Design. It contains nine modules outlining every detail of the program followed by ten lessons that show the students how to design an array of different objects. Professional quality video outline each of the chapters and lesson sets included in the program. The company also announced that a portion of every sale goes to building schools in Kenya and they will be giving away a free 3D printer as part of the launch.
"3D printing will undoubtedly be another form of education that will play a future in a lot of these students in school today," said John Bokla the founder of i3D. "But, will teachers be able to adapt and relay this important technology to their innovative students? We are setting out to help teachers across the world to make the 3D printing education process as simple and seamless as they can for teachers."
i3D has released their first curriculum, "i3D Creatives Launchpad," which is designed to teach kids age 8-15 how to use 3D Design for 3D printing. The interactive program includes videos that outline each chapter as students learn how to download and navigate through 123D Design, a free software, before learning the details of each design. This format allows the students to progress through the engaging lessons at their own pace, making the experience fun with engaging lessons that they actually enjoy. This engagement and interest allows the lessons to include principles that might not get the students attention on the whiteboard.
3D printing gives students a way to learn different principles for many reasons, but perhaps most importantly it is engaging for them. Kids love turning their ideas and thoughts into 3D printed objects. It is an empowering experience for them and this engagement allows teachers to relay very important principles to the student that may have not otherwise been engaged in the traditional style lesson.
This technology and approach connects the virtual world directly back to the actual world, which is a solution to an important issue for a lot of children today and potentially even more in the future. 3D printing allows students to work in the virtual environment but understand the limitations of the physical world. Something that videogames and virtual reality will not convey to the next generation.
"My competition is not other teachers," said Bokla. "My competition is the kids video games. I have tried to make the course engaging and fun for the students to go through. I use professional quality production with whiteboard animation and ridiculous bloopers of me to keep the student engaged through the learning experience."
You can read the Full Story Here. The article includes professional videos and pictures prepared specifically for the launch.
You can schedule a Skype interview with John by going to http://calendly.com/jbokla
You can see a list of videos appropriate for feature article Here.
You can see a list of photos appropriate for feature article Here.