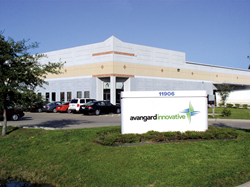 "We are delighted to be working with KW on this project as their sourcing group in Mexico." - Rick Perez, CEO of Avangard Innovative
HOUSTON, TEXAS (PRWEB) March 19, 2015
The world's largest plastic reclaimer, KW Plastics, is engaging Avangard Innovative (AI), the largest recycler in the Americas, and a premier sustainable solutions provider in the Americas, in an exclusive agreement to manage the market development and purchasing of HDPE injection grade and bulky rigids from Mexico.
Operating in Mexico since the 1990's in PET and HDPE collection and processing, Avangard Innovative is the leader in recycling services and management of all commodity streams for retailers today.  AI's knowledge of working in Mexico, and expertise in managing the quality, logistics, customs, and overall supply chain will help KW bring in more HDPE injection grade material to meet their rapidly growing consumer demand.  
"KW Plastics is very excited to be working with Avangard Innovative. KW and AI have a long-lasting relationship that began in the Mid-1990's as the two companies successfully developed the market for HDPE, mixed color bottles in Mexico.  KW has recently completed the installation of a new wash-line designed to process bulky rigid HDPE containers with the capacity to consume 12 million pounds per month of material.  We believe Mexico can supply a substantial portion of the material needed for our new line," said KW Plastics Recycling Division GM, Scott Saunders.
Both companies are members of APR's (The Association of Postconsumer Plastic Recyclers) Rigids Committee, formed in 2011, to focus on the recovery of polypropylene packaging commonly found in the home including PP bottles, PP yogurt containers, and PP caps/lids. As a result of the committee's efforts, a new opportunity was uncovered in the recycling stream.  HDPE injection grade bulky rigid containers, which are typically collected at the front end of MRF's processing single stream materials, promised rapid growth. KW started developing markets for the recycled resin from the HDPE bulky rigid stream.
Now, the product is so well received the demand has outgrown the current supply available in the USA. In an effort to increase their inbound feedstocks to the plant, KW looked to Mexico as a supply source. Knowing the extent of their capabilities, Avangard Innovative is the clear answer to KW's hurdles in Mexico and fulfilling management needs.
"We are delighted to be working with KW on this project as their sourcing group in Mexico.  It shows the progress of our industry in an effort to align companies to achieve goals in which we leverage the expertise of each company.  This will have a positive impact in the communities we operate in; not only economically and environmentally, but also socially, by increasing collection, improving quality, educating recycling facilities, and making quality recycled resin available in grades that were once not available to converters," said Avangard Innovative CEO, Rick Perez.
To sell HDPE injection grade and bulky rigid bales, please contact Avangard Innovative at 281-582-0700 or the Mexico sourcing representative managing this program, Octavio Victal at HDPE(at)avaicg(dot)com.
###