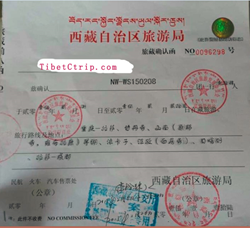 Travel in Tibet, Permit and visa application is as easy as ABC with Tibet Ctrip Travel Service!
Lhasa, Tibet (PRWEB) March 20, 2015
Obtaining a Tibet visa, also known as a Tibet travel permit, is required for all foreign visitors coming to Tibet in 2015. Depending on travelers' destination within Tibet, it's possible that more documents may be required. While the details can seem complex at first travelers can rest easy knowing that a licensed travel agency is required to do all the legwork. Tony Yang of Tibet Ctrip Travel Service-TCTS (http://www.tibetctrip.com) shares the details.

At least 10 days before arrival all travelers need to send TCTS copies of their passport and Chinese visa. In addition, travelers will also be asked to supply personal information such as their occupation. Be sure any and all information provided matches travelers' passports. This is where the bulk of the work comes in for travel groups.
Groups arriving by air or overland from Nepal will meet their guide at the airport or border crossing. They will have the permit with them and will assist the group with the immigration procedure. Travel groups coming from China will need to supply an address in China for the permit to be mailed to, such as a hotel. Tibet travel permits cannot be mailed internationally.
Travelers who do their due diligence will find that travel outside of Lhasa like Everest requires an additional PSB permit and travel to place like Kailash needs foreign affair permit. Then there are special authorizations required for sensitive areas. TCTS will take care of the applications and any applicable fees will be included in the tour price.
For travelers, making sure their entry to Tibet goes smoothly is relatively straightforward. Just be sure and supply accurate information and the correct documents by the requested deadline. Should any Tibet travel permit policy changes take place TCTS will keep travelers informed. With the 2015 travel season coming up quickly be sure to get those passports ready!
More links from Tibet Ctrip Travel Service: http://www.tibetctrip.com/tibet-travel-videos.html
http://www.tibetctrip.com/tibet-travels-tips/permits-and-visa-updated2013.html